This lovely Roasted Butternut Squash with Sautéed Chard is perfect for Fall and a great side vegetarian side dish for Thanksgiving!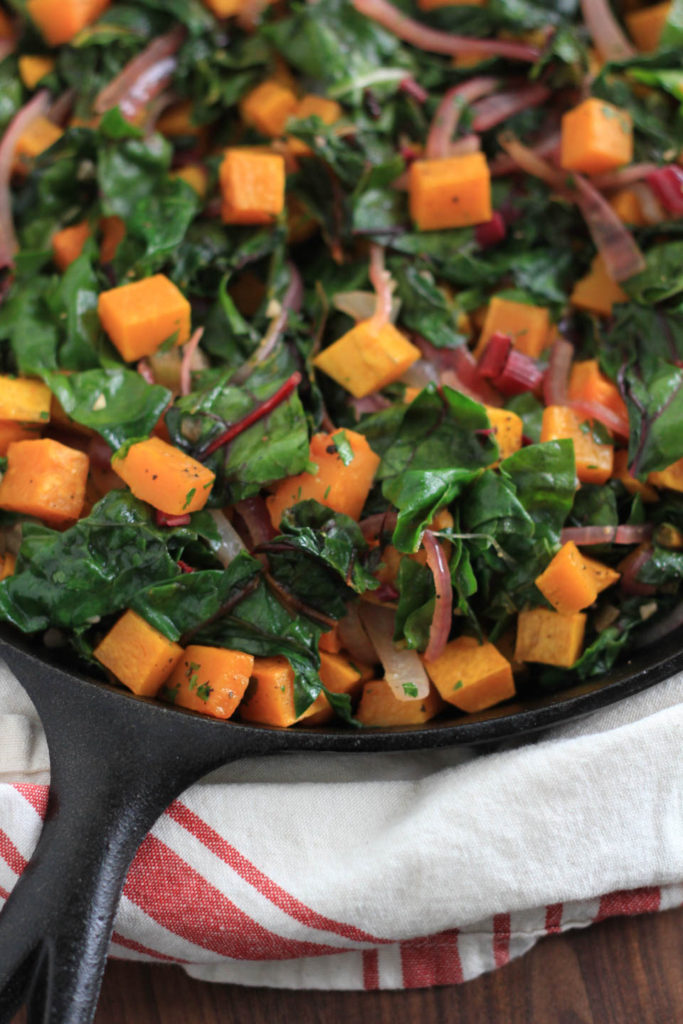 This dish is inspired by a sautéed chard I ate at the Ashland Culinary Festival from one of the chef competitors. It was one of the best chards I'd ever eaten, so simple but so perfect. I was planning on making a vegetarian dish for Thanksgiving with squash but I kept going back and forth on what I wanted. I had an image of this dish in my head using in season farmers market rainbow chard because of the dish I had in Ashland. But I needed it to be a bit more substantial for vegetarians at Thanksgiving. This dish with a soup, a side rice dish, even stuffing, can be a beautiful and filling meal for vegetarians on turkey day! It really needed the in season squash to make a more filling meal though, and any roasted squash fits the bill here. I've been eating it for breakfast and lunch with some sprouted wild rice for the past few days!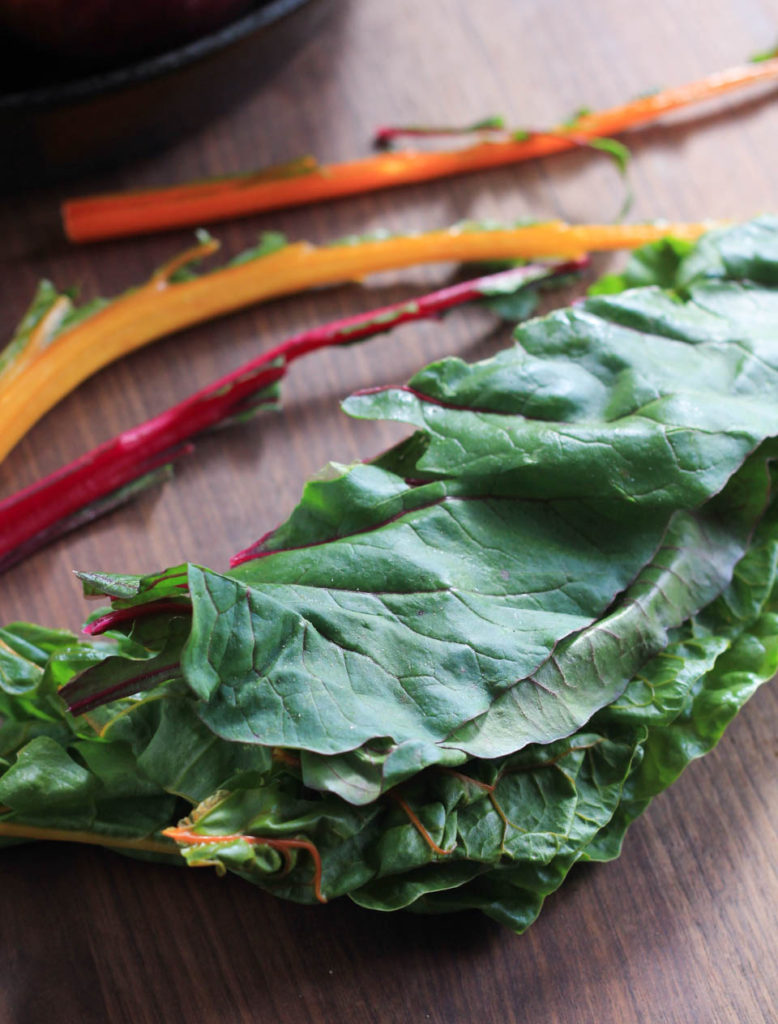 While there are no vegetarians in our household, I like eating healthy and balanced among some of the indulging going on. This is that dish for me, it's quick, easy, flavorful, and has so many nutrients keeping us healthy for the holiday season. Plus, how super pretty is it? We still have farmers markets around town during the colder months, and my favorite local grocer carries locally grown vegetables and fruits all year long. So you can pick up chard and squash at your local grocer or market to make this dish taste even better. The fresher these ingredients, the better. Especially since they aren't very many ingredients, they need to be good quality to make this dish the best!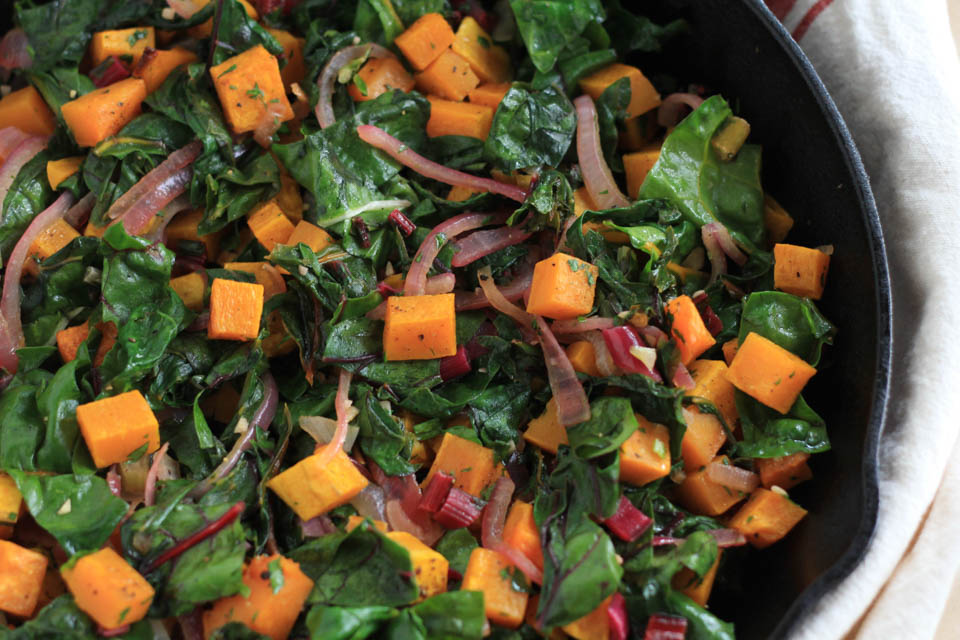 Many recipes like these add dried fruits for a nice rounded out sweetness, you could add dried cherries or cranberries for a touch of sweetness. Totally optional.
Roasted Butternut Squash with Sautéed Chard 
Serves 8
Ingredients:
1 medium butternut squash, peeled, de-seeded, cubed, about 5 cups
3 tablespoons olive oil, divided
fine sea salt
fresh cracked black pepper
1 large red onion, sliced 1/4 inch thick
2 large cloves garlic, minced
1 large lemon
2 large bunches rainbow chard
3 tablespoons chopped fresh parsley
Method:
Place oven rack in top third of oven and preheat to 400 degree.
Place cubed butternut squash on parchment lined baking sheet. Toss in 1 tablespoon olive oil, pinch of salt and pepper. Place in oven and bake for 20-25 minutes, or until squash is fork tender and crispy golden brown.
De-stem the rainbow chard, chop leaves into 2 inch pieces, and chop the stems into smaller 1/4 inch pieces.
Place 1 tablespoon olive oil in a large sauté pan or dutch oven over medium heat. Add sliced red onion and cook down for 15 minutes, stirring occasionally. Add stems and cook for 5 minutes, stir. Add garlic and cook until fragrant, about 1 minute. De-glaze pan with juice from one lemon, using a wooden spoon to scrape up bottom of pan. Add chard leaves, stir until wilted into pot/pan.
Cook for 3 minutes, just until wilted. Season with salt and fresh cracked pepper. Add parsley and butternut squash, stir gently to combine. Taste for seasoning, add salt and pepper of needed. Serve immediately. Store leftovers in an airtight container for up to 3 days.
For the holidays or meal prep: Roast squash 1-2 days ahead of time to make dish quickly, the squash will warm up when added to greens for serving.