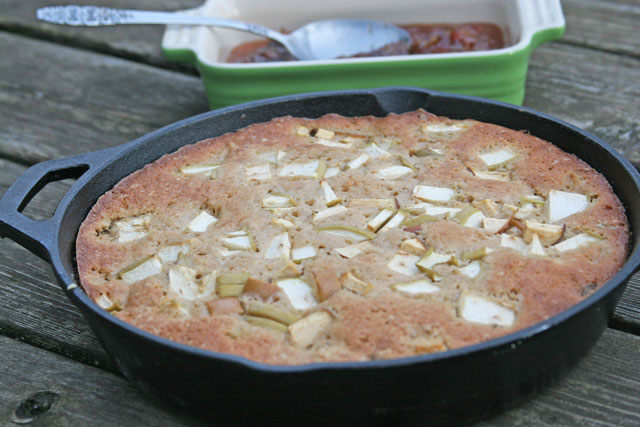 I love buttermilk cakes, they are my favorite.  I am not just saying, oh I love buttermilk cakes, I mean, really they they are always the best.  They lend a tangyness and light texture to the crumb of the cake.  That is what I look for in this type of cake.  Also technique plays a huge roll in this light texture.  Buttermilk helps the team out, if you know what I mean.  I enjoy sharing my tips and tricks learned from culinary school and working with seasoned bakers.  So I will keep this short because the tips are coming.  I share these tips with you so you can make an amazing cake at home, not just an ok cake at home.  I think that is cool.
This is adapted from Joy the Baker's cookbook skillet cake.
Buttermilk Apple Skillet Cake with Apple Raisin Compote, Tips & Tricks Included!
makes 10 inch cake
Ingredients:
Cake:
1 1/2 cups all purpose flour ( I use Bob's Red Mill Unbleached All Purpose Flour)
3/4 teaspoon baking powder, aluminum free always
1/4 teaspoon baking soda
1 teaspoon cinnamon
3/4 teaspoon cardamom
1/2 teaspoon salt
6 tablespoons butter, room temperature
1/2 cup sugar, I use organic cane sugar
1/3 cup light brown sugar
3/4 cup buttermilk, room temperature
2 large eggs, room temperature
1 teaspoon vanilla
2 apples or 2 1/2 cups, any kind you like chopped into 1/4-1/2 inch pieces (I used 1 Granny & 1 Fuji)
1/2 cup golden raisins
1 8 or 9 inch cast iron skillet, lightly butter or spray, then very lightly dust with flour
You can also bake this in a cake pan if you do not have a cast iron skillet.
Compote:
1/2 cup sugar, I use organic cane sugar
1/2 teaspoon lemon zest
1 tablespoon fresh squeezed lemon juice
1 tablespoon apple cider vinegar
1/4 teapoon salt
1/2 teaspoon cinnamon
1 tablespoon butter
Note:  Start with room temperature butter, eggs, and buttermilk.  Do not skip this, it is important   If you forget to take the butter out, cut it into tiny pieces and leave it on the counter for an hour or two.  Smaller surface area helps bring butter to room temp faster.  Same goes for the buttermilk, pour the amount needed into a cup to help bring it to room temp.   Room temperature is about 68-70 degrees.
Method Tips:  This cake has a light moist crust because of how I mix it.  Creaming the butter first aerates it, makes it light and fluffy.  Blend it on medium/high for at least 10 minutes if not 15 minutes.  It will go from yellow butter, to light yellow butter, to white butter.  White butter is what you want.  When you think your butter is ready blend it 5 more minutes.  Then add the sugar and beat until it is white or light brown when using brown sugar.  About 15 minutes again.  I know it seems like a lot but the results are incomparable.  So be patient, the reward is worth it.
DO NOT OVER MIX.
I see this time and time again, every where I go!  Over mixing creates a dense, undesirable crumb in the cake.  It creates holes running through, it creates gluten.  And we do not want to create much gluten in a light and moist cake.  So when the dry ingredients just begin to soak up the moisture from the buttermilk, stop mixing.  STOP MIXING.  You will be finishing mixing it by hand when you incorporate the apples.  Ok, thanks for listening.  Lets make a cake!
PREHEAT OVEN 375 degrees
Method:
1.  In the bowl of a stand mixer with paddle attachment or in a bowl with a hand mixer, cream the butter on medium/high for at least 10 minutes, if not 15 minutes.  You want the butter to be white.  When the butter is white, add the sugar, and mix on high for 10 minutes  if not 15 minutes, you want the mixture to look light brown.  While you butter and sugar are creaming, sift the flour, baking powder, baking soda, cinnamon, cardamom, and salt into a bowl, set aside.
2.  Add one egg medium, and wait until it is mixed in, then add the other egg.  Wait until it is mixed in, then add the vanilla.  On low and add 1/2 the flour mixture, then add 1/2 of the buttermilk.  Then add the rest of the flour, and the rest of the buttermilk.  STOP MIXING.  Add 1 1/2 cup of the apples, and 1/4 cup of raisins.  Using your hand or a spatula incorporate the apples and raisins.  Do not over mix.
3.  Add the batter to the skillet, spread evenly with the spatula.  Top the cake with a handful of apples, about 1/2 cup.  Place skillet in oven and bake cake for 40-45 minutes.  At 40 minutes, take a cake tester or toothpick and check the center of the cake.  When the toothpick comes out clean, the cake is ready.  Allow to cool 20 minutes before cutting into the cake.
4.  While the cake is baking, place the remaining 1/2 cup of apples, and 1/4 cup of raisins into a small saucepan with compote ingredients sugar, lemon zest, lemon juice, apple cider vinegar, salt, cinnamon, and butter.  Bring to a boil over medium high heat.  Then reduce to low heat and simmer for about 20-30 minutes. You want the liquid to be thick, to check take a spoon and dip it into the sauce.  You want it to coat the back of the spoon.  Not too thick, not too thin.  That is called nape.
5.  Serve the cake with a dollop, about 1 tablespoon of the compote on the side, a cup of awesome coffee, tea, or a cold glass of milk.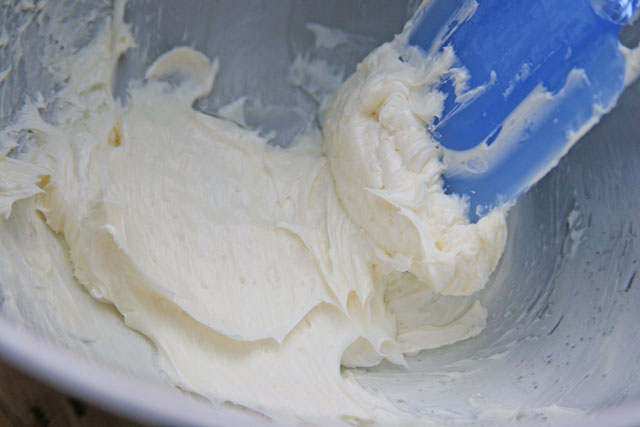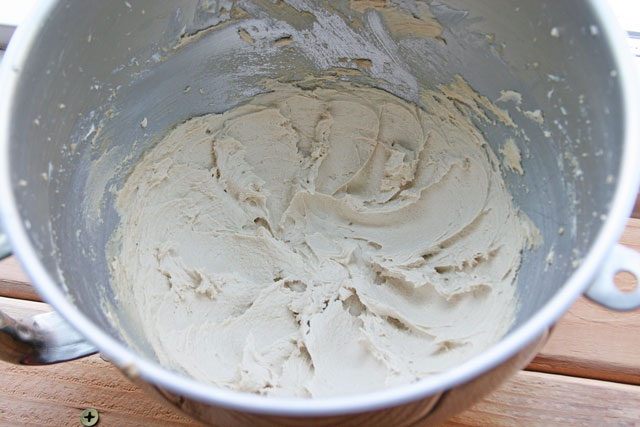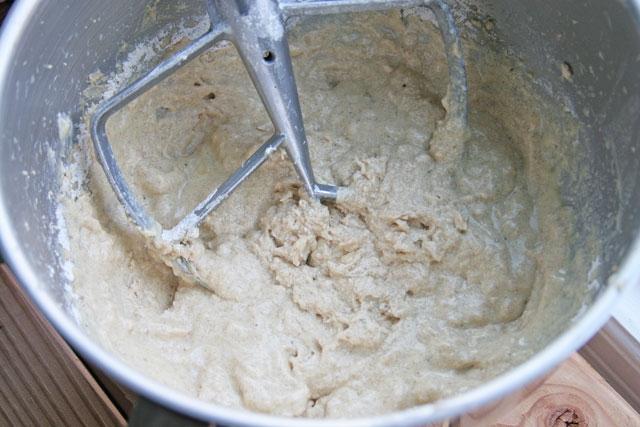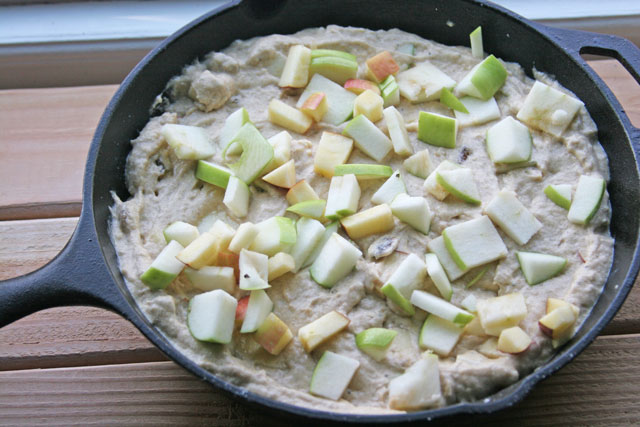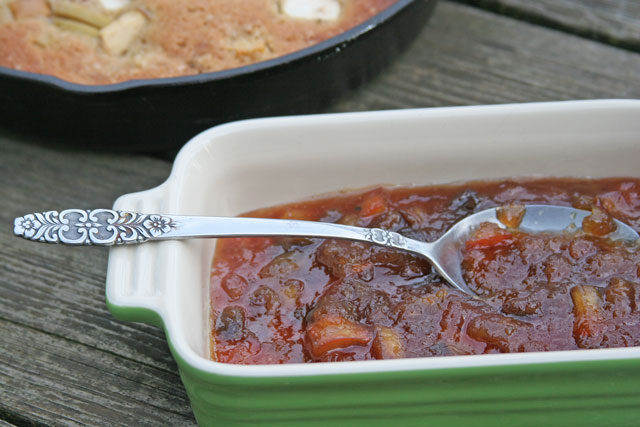 Buttermilk Apple Skillet Cake with Apple Raisin Compote, Tips & Tricks Included!