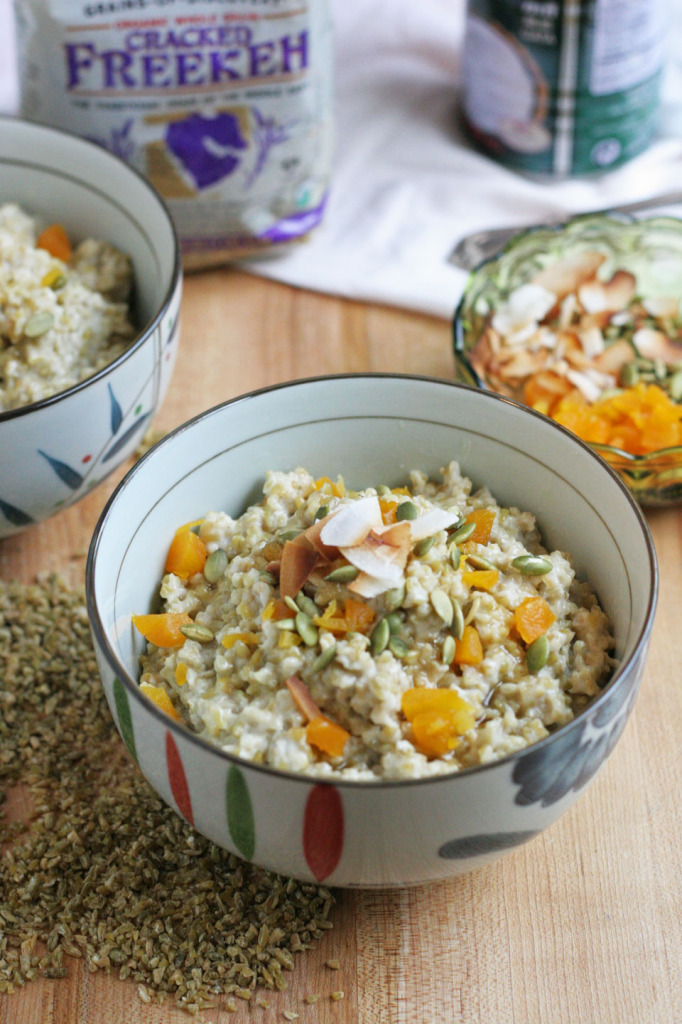 Disclosure: This is a compensated post in collaboration with Bob's Red Mill. As usual all opinions are my own. Thank you Bob's Red Mill for making NJB awesomeness possible. By the way, I am elated to be working with Bob's Red Mill as a recipe developing food blogger. I have been using Bob's Red Mill products for decades. I love the company, and what they stand for and what they do. It is a treat to live here in Portland and have to opportunities that I have had to tour the Mill, bloggers style, and meet Bob. He is genuinely an incredible person with the utmost awesome intentions as a business man. I am super grateful!
Let's just get it out there, start with serious honesty… I am in love obsessed with Bob's Red Mill Organic Cracked Freekeh. It is slightly chewy, nutty, versatile, highly nutritious, and filling. Ok, now that we have that cleared up I can talk about using it lately. Another honest alert, Brian does not love all whole grains like I do. I could eat brown rice, freekeh, and any grain all day every day, the nuttier the better. He is a bit reserved. He likes quinoa, brown rice hidden with goat cheese and sausage, and white jasmine rice is his favorite. But I have to forget that, and continue to cook my glorious whole grains, including Freekeh. His verdict, he likes it, and I am relieved.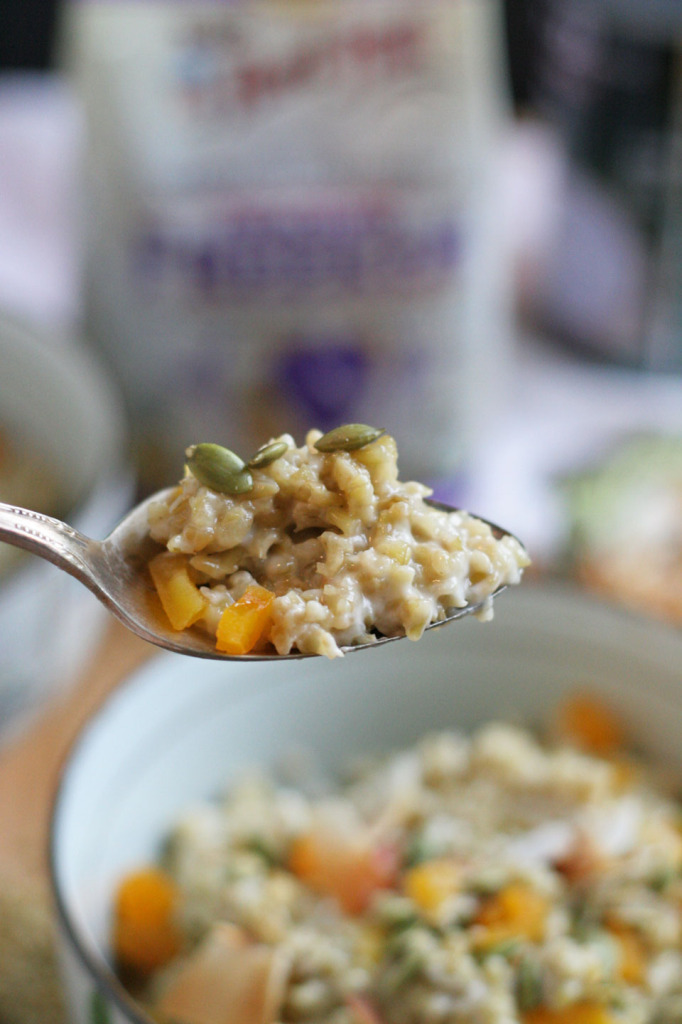 You can eat it cold, or hot. Add it to salads, as a simple side dish, or add greens to it for a warm side dish. My new favorite breakfast is this freekeh breakfast bowl with coconut milk. I love coconut milk, not coconut water. Although you can use milk, or water, the coconut milk is creamy, and gives the freekeh a luscious texture that is super good for breakfast. So good. And then adding fruit, seeds, nuts, and dried fruit for texture makes for a filling, and healthy breakfast.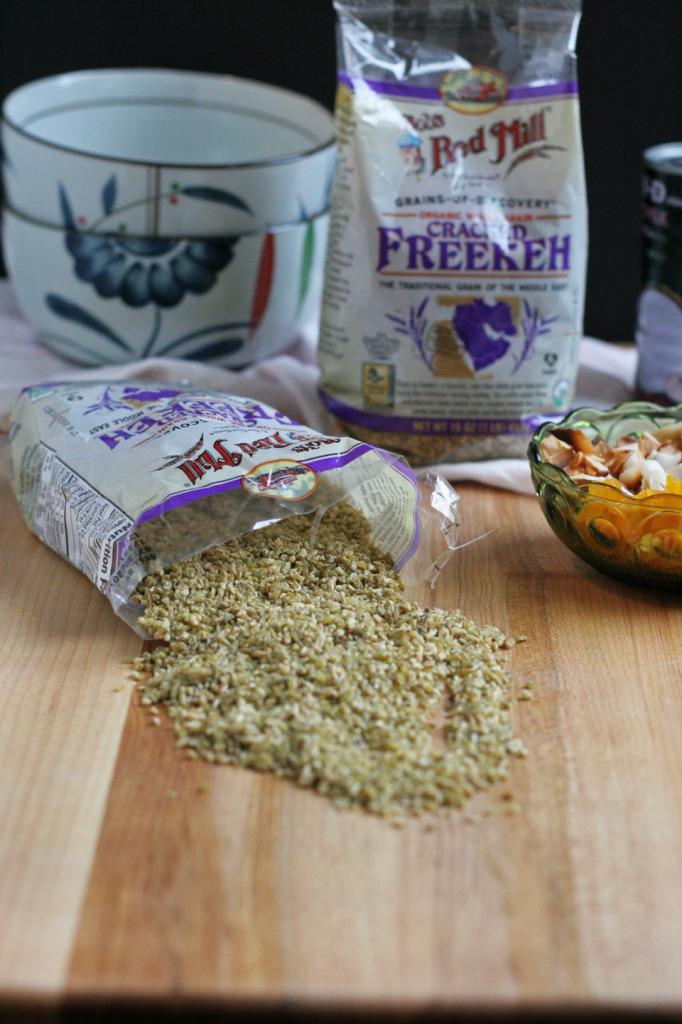 Have you tried Freekeh?
Freekeh Breakfast Bowl and Bobs Red Mill Giveaway!
The giveaway is closed and a winner was chosen. Thank you so much for entering and for your support!
I am happy to bring you more awesomeness! Bob's Red Mill and I are giving you a chance to make this Freekeh at home with a generous giveaway yay!!!!
GIVEAWAY PRIZE:
Win a package of Freekeh and a $50 Bob's Red Mill.com gift card
The winner will be chosen on Tuesday November 6th at 12am PST. The winner will be emailed and a response is needed within 48 hours, or another winner will be chosen. Thank you.
How to enter:
follow rafflecopter promps and thank you for entering!
I shared this recipe on ABC'S KATU AM Northwest Portland, here is the segment!
Freekeh Breakfast Bowl
Servings 4-6
Ingredients:
1 cup Bob's Red Mill Organic Cracked Freekeh
2 1/4 cup coconut milk, or milk
1 tablespoon honey
1 teaspoon cinnamon
1/2 teaspoon fine sea salt
toppings: use your favorite fresh fruits, dried fruits, and nuts to top your freekeh breakfast bowl
2 pears, chopped
1/4 cup pumpkin seeds, toasted
1/4 cup dried apricots
coconut flakes, unsweetened and toasted
Method:
1. In a medium sauce pot, add freekeh, milk, honey, cinnamon, and salt. Cover, and cook over medium heat for 30-35 minutes. Remove from heat.
2. Serve in individual bowls. Top with chopped pears, pumpkin seeds, dried apricots, and toasted coconut flakes. Store leftovers in an airtight container for up to 5 days. Reheat in microwave, and top with your favorite toppings and have a nutritious easy breakfast on the go!