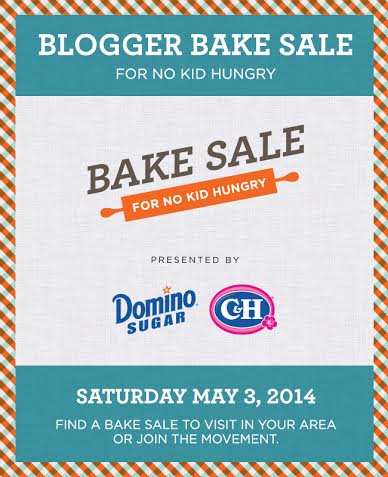 It's that time of year again for our National Blogger Bake Sale for No Kid Hungry!  This year many amazing bloggers here in Portland are donating bake sale goodies for our sale and I could not be more proud and grateful for their donations.  There will be scones, cookies, fresh bread, cakes, jams, and handmade doggy treats for your special puppy friend!
This is the third year I have hosted the bake sale in Portland and each year we have more and more help, which makes this such a special event.  As usual, all proceeds from the bake sale go to No Kid Hungry.  Every penny is sent to them to go to school lunches, breakfast, and simply put, food for children here in the United States.
Last year food bloggers across the nation made $20,000 in sale in ONE DAY!  But over the course of the year we keep our donation pages open for people who want to donate more, or could not make it to the bake sales in their area.  Naturally this has increased our reach and ability to generate more donations.
Visit our donation page for updates and the ability to donate online, super easy!
JOIN US! #bloggerbakesale
WHERE:  Powell's Book Store, 1005 Burnside St Portland, Or 97209
The Sale EXACT location:  ON Couch, near 11th Ave
WHEN:  Saturday May 3rd    9 am-1 pm
WHAT:  You will simply find several local bloggers selling an amazing assortment of blogger made and baked goods.  And ALL of the money will go to help end childhood hunger here in the United States.
Here is the Google Map image of our exact location on Couch Street near 11th Ave.
Thank you for our donations, tweets, Facebook shares, and all of your support.  I could not do this without all of YOU!
Our lovely Volunteers:
Erin from Bakery Bingo
Renee from The Good Hearted Woman
Sarah from Killer Pickles
Marissa from Margaritas in the Rain
Jana from Merlot Mommy
Rebekah from PDX Food Love
Lindsay from Rosemarried
Jen from Tana's Treats, handmade doggy treats!
Tiffany and Andrew from Thyme of Taste
Marlynn from Urban Bliss Life, and Urban Bliss Media
Jenni from A Well Crafted Party