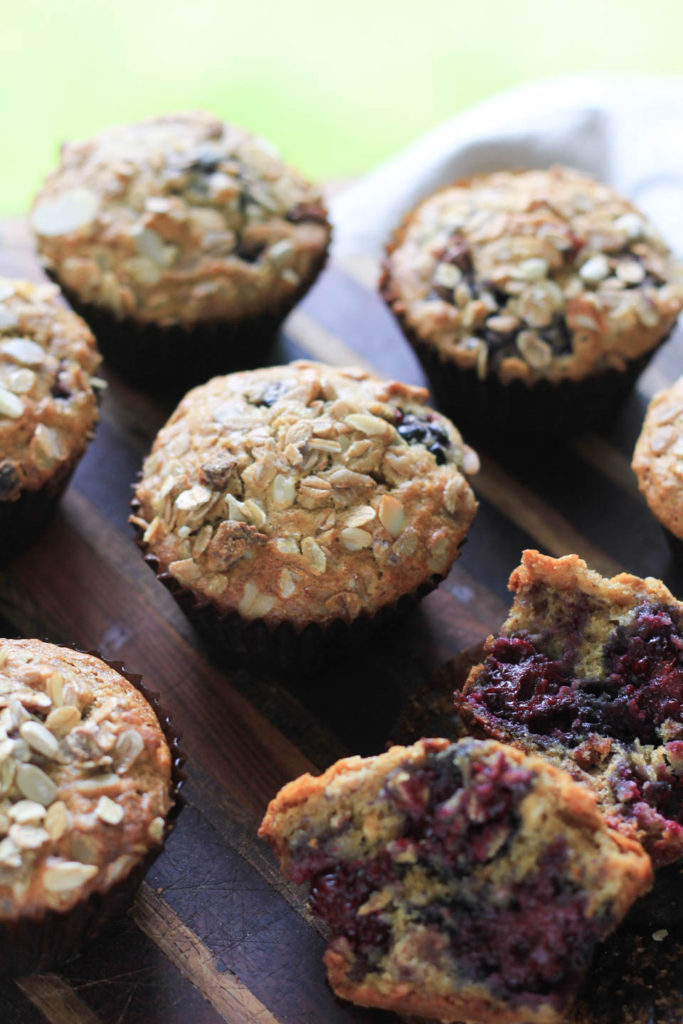 I'll say it over and over, when you start with good ingredients, the food will always be good. It's that simple!
I was sitting at lunch with my Mom, I was eating a vegetarian super veggie sandwich and my Mom was eating breakfast with eggs and such. That is her absolute favorite meal on the entire planet. We were talking about my love of healthy foods and where in the world that started. I remind her over and over that she fed us well rounded and amazing food growing up, that created a food loving little girl that is now a food loving adult. I've always had a love of food, healthy and indulgent. As for making those better choices, I went for the more nutritious sandwich that day. I have been helping my Mama a lot with her health and I need the energy to keep me going, and basically care taking for two households much of the time. And in general that sandwich is simply a better choice for regardless of what is going on!
That conversation over healthier foods led us to these more densely nutritious style muffins. She has a love for breakfast foods like I said, and any that I make, she is a happy lady. So when I make muffins, scones, and desserts lately, I make sure that they are lower in sugar and higher in better for us stuff so that she can enjoy them and I feel good about sharing them with her.
After recipe testing these a few times to get them exactly how I envisioned, I realized I would much rather a muffin like this and a bran muffin than any other kind. I do love nutrient dense foods, and given the choice I'd eat these any day over a white flour blueberry muffin. They taste better to me! And when I make them for my Mom, she absolutely loves them. Plus, Brian's favorite is a blackberry muffins, so the whole family wins with this Blackberry Muesli Muffin recipe! Muesli is so good, full of nuts and seeds, oats, and dried fruit. All of those are Mom's favorite things. And for me, I love the texture of the muesli and I loved taking these on our hikes to get some much needed energy from all the good stuff. We're going camping soon and I will totally be taking a batch for our hike! It may not be totally reasonable to travel with a touch of butter for the hike muffin, I'll save that for the campsite. BUT one of these right out of the oven or warmed up with a little bit of salty butter is quite heavenly. Seriously, butter and warm muffin, that is a good little treat.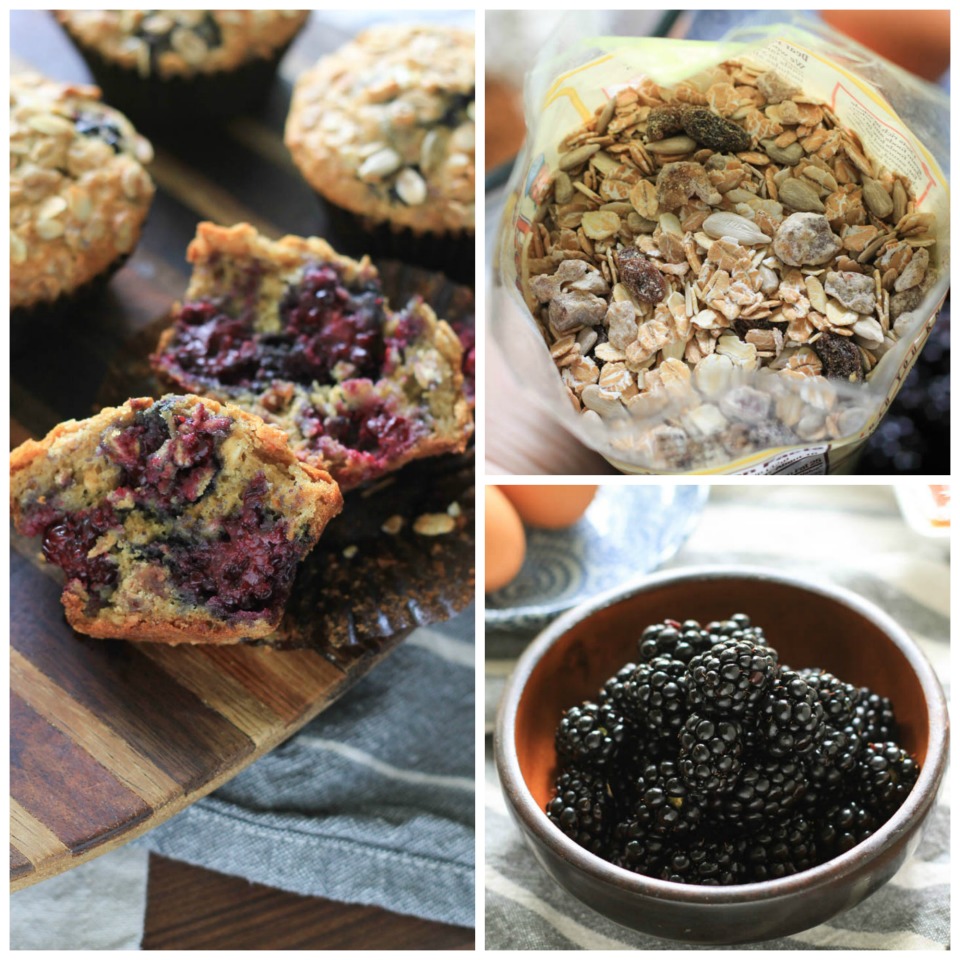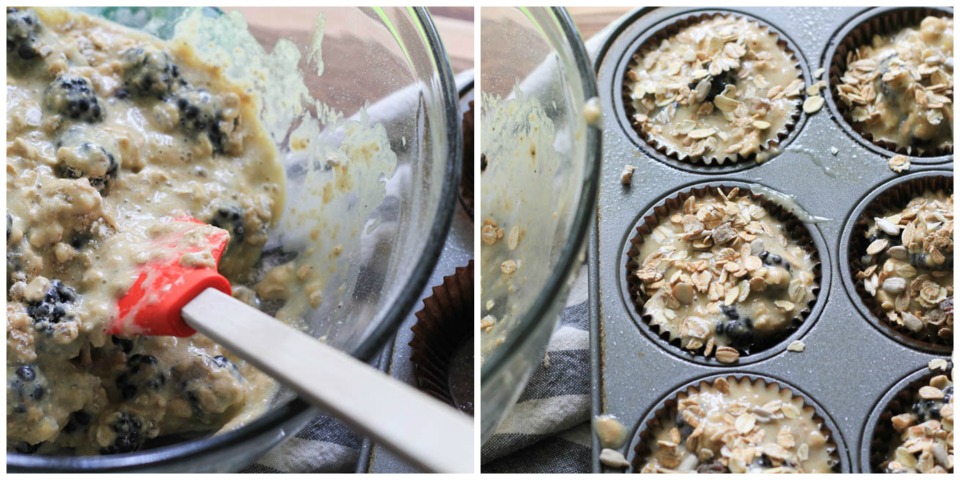 These are a heartier than normal muffin recipes with big flavor and nutrition. Perfect for a quick morning breakfast, hike bites, on the go snack, and fancy enough for a brunch gathering. Way better than anything you'll find in the store or corner coffee shop. Filled with Bob's Red Mill Old Country Muesli that has tons of whole grains, nuts, seeds and dried fruit! These muffins are low in sugar, high in fiber, and protein, which will satiate much longer than a white flour sugary muffin.
*Baking Tip: The key to tender fluffy muffins- do not over mix and fold batter gently when combining wet and dry ingredients, leaving lumps is key.
Blackberry Muesli Muffins
makes 10 muffins
Ingredients:
1 cup Bob's Red Mill Old Country Muesli, reserve 1/4 cup for tops
1 cup whole wheat pastry flour, Bob's Red Mill
3/4 teaspoon baking soda
1/2 teaspoon baking powder
1/2 teaspoon fine sea salt
1/2 teaspoon cinnamon
1/4 teaspoon fresh ground black pepper
1/2 cup buttermilk
1/2 cup grapeseed oil
2 large eggs
3 tablespoons honey
1/2 large lemon, zest and juice
1 1/2-2 cups blackberries, fresh or frozen
Method:
Place oven rack in center of oven and preheat to 375 degrees. Line muffin tin with 10 muffin liners, spray pan with baking/cooking spray.
Place muesli, flour, baking soda, baking powder, salt, cinnamon, and black pepper in a large bowl whisk to combine well. Place buttermilk, oil, eggs, honey, lemon juice and zest in a medium bowl, using a fork, whisk to combine well. Add buttermilk mixture to flour mixture, using a large spatula, very gently combine. Do not over mix. Leave some lumps and dry flour, then add blackberries, fold into batter very gently.
Divide batter among 10 muffin liners, filling to rims. Sprinkle tops with reserved 1/4 cup muesli. Place in oven and bake about 20-25 minutes or until a toothpick from center comes out clean. Allow to cool completely on a wire rack. Store in an airtight container on counter for 3 days, then put in fridge for up to 5 days. Or place in a freezer bag and freeze for up to 1 month. Allow to thaw overnight on counter to enjoy in the morning.
Disclosure: This is a compensated post in collaboration with Bob's Red Mill. As usual all opinions are my own. Thank you for supporting the brands that support NJB!