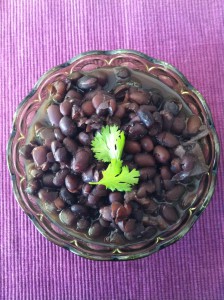 Who doesn't love fresh homemade beans, black, pinto, chick, you name it, I love it.  There is something to be said for a food that low simmers all day or even just a few hours filling your home with the aroma of goodness.  Beans cooking reminds me of Mexico.  There are many different foods that remind me of my childhood, Mexico, and home cooking, each have a distinct trigger in my recollections of that childhood, but a pot of beans is definitely top 10.  Oh it is so good, and so easy it is ridiculous.  You can add whatever you love to your pot but these are simple, straight foward goodness.  I usually make them on the weekend, preferably Sunday, and eat them all week.  I heat up a bowl and have it for lunch, add a couple of handfuls to some scrambled eggs with salsa, top my sunny side up eggs with a few spoon fulls, add it to a quesadilla, and eat them cold or hot .  If you are sick of them after a few days, mash them up with some oil, and voila, you have re fried beans.  I could go on forever with suggestions on what you can do with this vitamin filled, high fiber source yummy food, just tap into your imagination and get the ideas flowing.  I am sure you will come up with thing I have never even dreamed of…
Note:  The night before, start by soaking the beans overnight in a bowl of water to cover the beans by two inches.  If the weather is hot, place the bowl in the refrigerator to prevent any fermentation.  In the morning drain the beans, and rinse with cold water.
ingredients:
1 lb black beans
1 tbsp grapeseed oil
1/2 white onion roughly chopped
3 cloves small garlic cloves minced
2 qt water
1 teaspoon fine sea salt
1 tsp freshly ground black pepper
cilantro roughly chopped
method:
3.  In a 4 quart pot add the olive oil over medium heat, once shimmering, add onions and garlic.  Cook until fragrant.  Add the water.
Boil the quart of water, DO NOT add the salt.  Salt, and any acids can toughen beans, so do not add them until the end.
4.  Once the water is boiling reduce heat to medium low, add the beans.  Reduce to a simmer, cover, and cook for at least 2 hours.  Each batch will be different, so be sure to check the doneness of the beans before you remove from the heat, add water if needed during the cooking.
5.  Once the beans are done, add the pepper and salt.  Stir to combine, turn off heat.  Serve with cilantro family style or in individual bowl.  Try this Black Bean Mango Bowl recipe!
ENJOY!!!