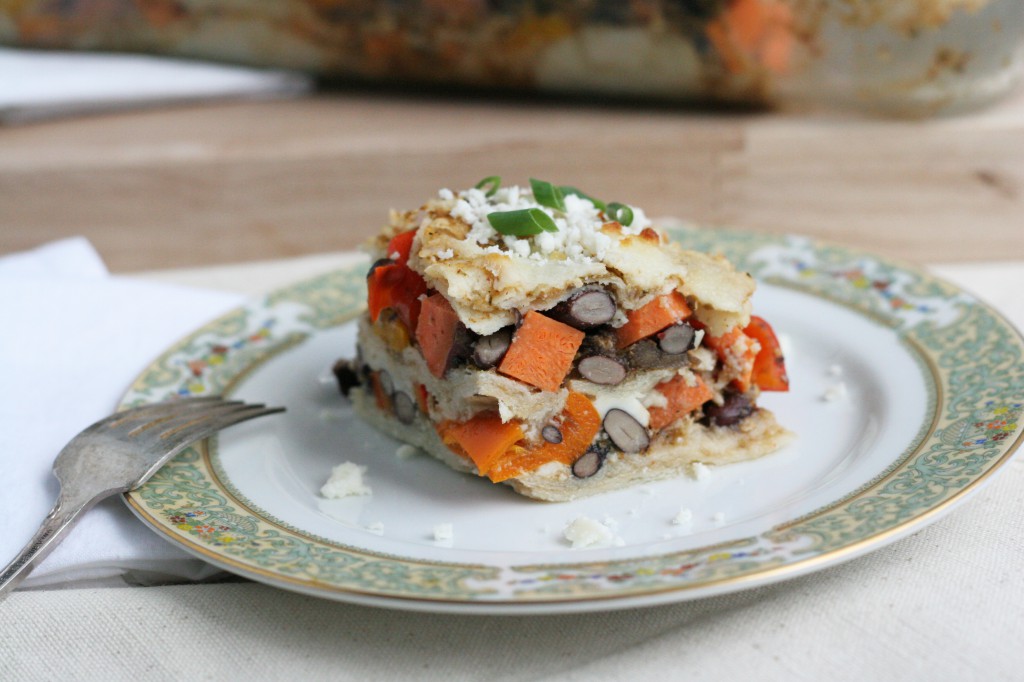 This recipe was one of those mid week ideas that came to me when I wanted to have Mexican food but needed it to be easy, healthy, and quick, as my time was taken up by other projects.  It seriously took me twenty minutes at most to put this tortilla bake together.  I had an idea that I wanted enchiladas but less time consuming, so I took to making a tortilla bake or Mexican type lasagna.  And by no means traditional, these ingredients are just enough to make me feel like I am eating Mexican food, which is what matters to me.  My tips to these types of dishes to make it easier for weeknight meals, is having things on hand to make better choices.  Save money and calories by having a variety of canned organic beans, I have garbanzo, northern, black, and pinto most of the time.  Sweet potatoes, yams, and vegetables are also always in abundance in our house to put together, even in a bowl with beans for a healthy quick meal.  Like my Black Bean Mango Bowl, if don't have mango but have other vegetables, add them for more nutrients.  Tortilla bake essentials are the salsa and tortillas, other than add vegetables and some light cheese, you have a healthy meal great for leftovers.
We were having family over for dinner and I had a short period of time to put together dinner and a post.  As I said, I wanted Mexican and healthy, so I made this.  Black beans, chopped yams, mushrooms, and sweet peppers tossed with salsa in between tortillas and baked?  OK, sounds great to me.  I tend to make elaborate or simple meals, few in between.  This is simple, use whatever vegetables you have, or make a list of these to pick up next time you are going to the farmers market or store, type of weeknight meal.
Note:  As far as the salsa goes, I make large batches to can or freeze for winter use.  If you don't have salsa on hand, buy your favorite salsa, any will do.
Freezer Meal Instructions:  Make recipe and bake the tortilla bake, cut into serving size pieces, allow to cool, place in individual ziplock bags for easy freezer meals.  Remove from freezer the day you want to eat it, place on counter to thaw for a few hours or in fridge if more than a few hours. Reheat instructions:  Place in oven or toaster oven at 400 degrees, warm up for 20 minutes.  Or warm in a microwave for a few minutes.  Serve with salsa and cheese.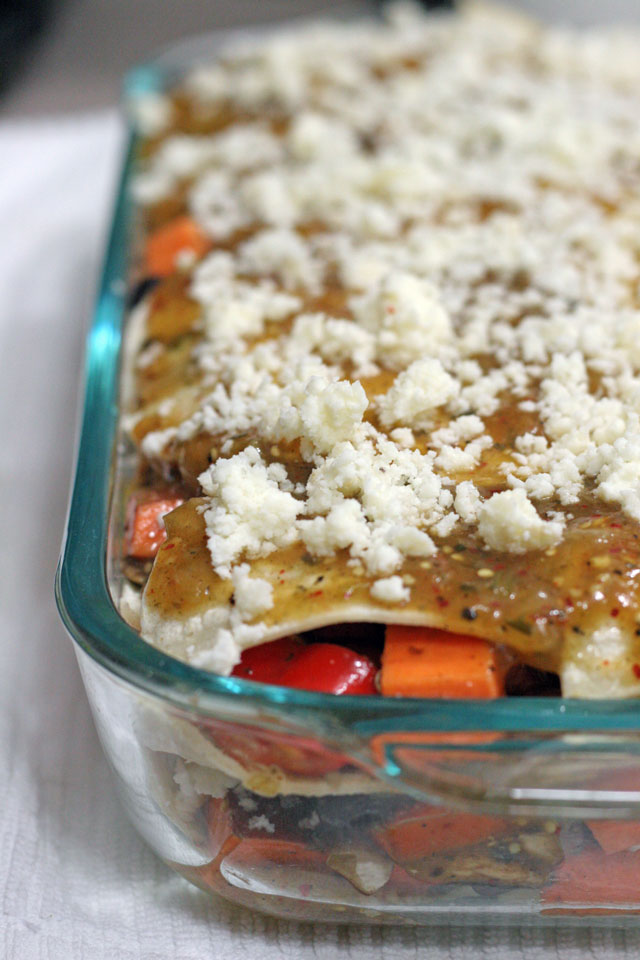 Black Bean Yam Tortilla Bake
Serves 12
Ingredients:
18 corn tortillas, 6 cut in half
2 1/2-3 cups salsa, I used tomatillo
1 cup cotija cheese crumbled, omit for vegan
4 cups yams chopped, about 2 large, leave skin on
1-15 oz can black, drained and rinsed
2 cups mushrooms chopped, stemmed
2 cups sweet peppers chopped
1 teaspoon fine sea salt
1/2 teaspoon fresh ground pepper
PREHEAT OVEN 400 DEGREES
Method:
1.  In a large bowl add 1/2 cup salsa, yams, black beans, mushrooms, sweet peppers, salt and peppers.  Mix to combine.
2.  Using a 9×13 Pyrex or oven safe casserole dish, place 4 tortillas on the bottom, and use 2 of the 1/2 cut tortillas for each end.  Ladle 1/2 cup salsa, spread evenly.  Crumble 1/4 cup cheese evenly over salsa.  Add 1/2 of the yam mixture on the tortillas.  Repeat the tortilla layer, add 1/2 cup salsa, 1/4 cup cheese, then the other 1/2 yam mixture.  Cover with tortillas.  Add 1/2 cup salsa to the top layer, sprinkle with 1/4 cup cheese.  Bake in oven for 1 hour at 400 degrees.
3.  Using a sharp knife, cut into thirds lengthwise, then into fourths-width wise to get 9- 3×3 inch pieces.  Serve warm with a sprinkle of cheese and spoonful of salsa.
ENJOY!