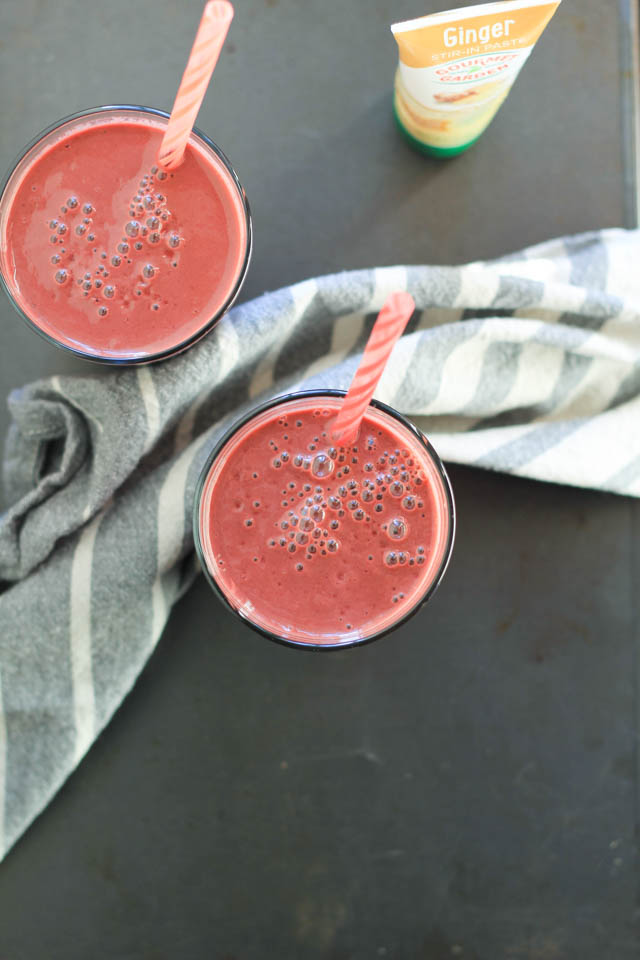 Disclosure: This is a compensated post in collaboration with Gourmet Garden Herbs US. As usual all opinions are my own. Thank you for supporting the brands that support NJB.
It's another super healthy recipe coming for us! But nothing new here, I'm still drinking green smoothies all of the time, but I am trying some new add ins to up the nutrition and boost my immune system. I'm a creature of smoothie habit, making it basically the same way over and over, even if I love all the smoothies I drink with other ingredients. But recently I drank a juice at a super healthy eating restaurant in Portland that reminded me of a cleanse I did in my early twenties. It has apples, lemon, cayenne, spirulina, and ginger. Have you seen that cleanse? It was super popular fifteen years ago, and I tried it for a day or two, and went right back to real food. Last year I made a berry beet smoothie that I loved, so I decided to add beets! They are full of vitamins and taste great with the sweetness of the apple, and spicy ginger. I ordered this drink and it took me right back to that time in my life, I did cleanses more often then and I was a massage therapist, it feels like that was a lonnnnggg time ago. It's so so easy to add things to our daily green smoothie habit to up the nutrition, like ginger. I use the Gourmet Garden paste to make my life and smoothie add ins easier. Same goes with the spirulina powder, it's kind of a no brainer to keep these things around. I am making more of an effort to take care of myself, not only by eating healthy and balanced as I do normally, but making simple changes like this.
On my monthly tv segment last week I told millions of viewers I did five pushups, because I did! I could only do five, no shame in my game, they are challenging. Well, today I am happy to report I am up to twenty, BOOM! Making these small changes like adding ginger to a smoothie or having a push up goal is how I am taking care of myself. What are your ways you take care of yourself? I'd love tips to your favorite ways!
Beet Apple Ginger Smoothie
makes 3-16oz smoothies
Ingredients:
3 cups spinach
2 cups water, you could use almond milk or coconut milk
1/2 cup beets, peeled and chopped
1 small apple, cored and chopped
1/2 cup frozen mango or 1 large banana
1 tablespoon Gourmet Garden ginger paste
Method:
Place all ingredients into blender. Blend on high for a 3 minutes, or until all ingredients are combined well. Store in mason jars with tight fitting lids, or covered glass in fridge for the next day. I double the recipe and have smoothies for the next two days.