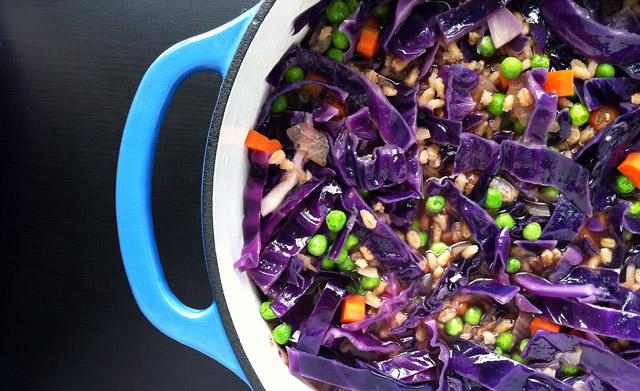 This is an oldy but a goody soup recipe from last year SoupaPalooza 2012. An easy, hearty, healthy recipe to start 2013! I hope you had a great Happy New Year. I hope you feel happy, healthy, and are enjoying life! May it be a full and wonderful year for you and your loved ones.
Original Post: Barley, Cabbage, Carrot, and Pea Soup
I was hanging out yesterday, doing my daily writing, brainstorming, day dreaming, and what not, thinking to myself, I want barley. I even tweeted it. I was conjuring up ways to be creative with the barley I stash in our pantry, and well the day went on to other things, no barley. But I did come up with this soup in my long thoughts of barley. It has been pretty cold in Vancouver for a few days, even snow flakes soaring in the sky, just not cold enough to cover the ground all the way, but cold enough for soup it most certainly is that cold. I love soup, my Mama hates it, my Dad loves it, I find this amusing. I feel it is nourishing for your health and soul, she thinks it is old people food, she is funny that way. I will get to the bottom of that one day, I will. Back to me loving it, I really do. I suppose it can get old, but if you get creative, or make this recipe, it won't get old. Plus an awesome way to keep the soups creative and tasty is to visit the Soupapalooza to find great ideas for soups! You will find this recipe, and my black bean chili recipe on the list, plus many more. Check it out…
Come join SoupaPalooza at TidyMom and Dine and Dish sponsored by KitchenAid, Red Star Yeast and Le Creuset!
Barley, Cabbage, Carrot, and Pea Soup
Serves: 6
This is a quick recipe, which is a bonus for mid week dinners or meatless Mondays!
Ingredients:
1 cup barley
1 cup onions small dice
3 garlic cloves minced
1/2 cup carrot medium chop
1/2 red cabbage sliced 1/4-1/2 inch thick (how to cut cabbage)
1/2 cup frozen peas
6 cups stock (veggie, chicken, beef, whatever you have on hand, or use water)
1/2 tsp fresh thyme
1 tsp dry oregano
1 tbsp olive oil
salt and pepper
Served with:
lime wedges
Sriracha
Fresh cilantro or flat leaf parsley
How To:
1. In a Dutch oven, or large pot add the olive oil over medium heat, then add the onions. Cook for 10 minutes, stir occasionally. Add the garlic, cook until fragrant, about 2 minutes, stir. Add the stock and barley, bring to a boil, then reduce to a simmer over low heat. Add 1 tsp of salt, the thyme and oregano. Cover and cook for about 30-40 minutes.
2. Add the cabbage, and carrots, cover and cook for about 10 minutes. Add the peas. Check the seasoning! Add 1 tsp fresh ground black pepper, and check the salt, does it need more? I added about 1/2 tsp now. Stir and you are done and ready to serve!
3. Serve with some yummy bread. If you want some meat in it, add some shredded chicken, or chicken meatballs, or whatever you may like!
oh and fyi… leftovers are ahhh mazing!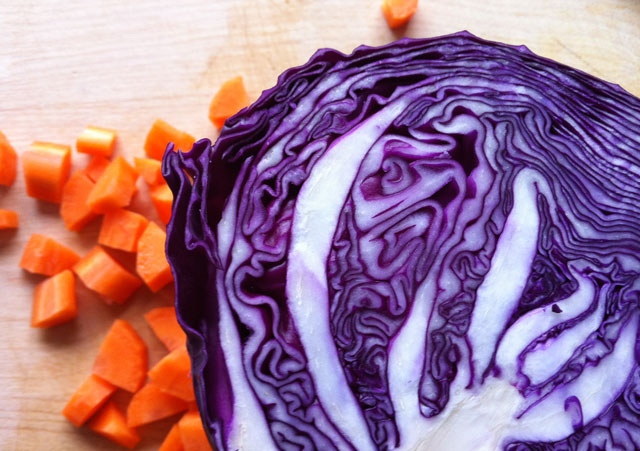 ENJOY!