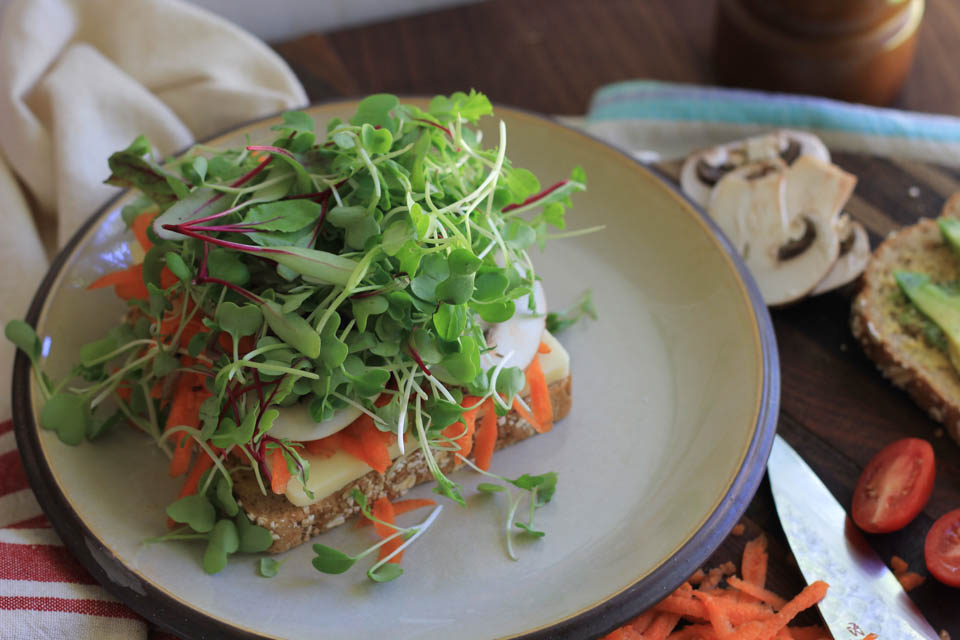 I have a confession to make, I love sandwiches a lot. I eat them every week at least once in some form or another, and it's usually for dinner not lunch. What?!! I know.  It's all good if it's a simple turkey and cheese with tons of lettuce, or something a little fancier like this avocado sprout vegetable sandwich, I'm good. I've also had to convince Brian this is an ok thing to do. He likes sandwiches, just not so much for dinner. But he's come over to my side a bit. I've always loved them, since I was a kid. And I've been cooking as long as I've loved them too. Or at least helping in the kitchen. So it's not like I eat them because I didn't know how to cook for myself, I just really like them. And since I can remember, I've always been a fan of grainy bread, and tons of vegetables.
Back in Sacramento I used to go to the cutest vegetarian walk up counter shop and order a vegetarian sandwich kind of like this. My Mom has no idea how this all happened, but I've been eating grainy bread and vegetables my whole life. She wonders how it all started, but I recall her favorite sandwich is whole wheat walnut sourdough toast with cheese, apples, and greens, so she's not that far off. But the funny thing is, she dislikes most sandwiches and I love them. It's not even that they are the perfect vessel for protein, grains, and greens, I've not even thought too much about that. I just like them. So I thought it was time to share a super crazy healthy version of the sandwich I ate at Sunflower Cafe back in Sacramento, Ca. I love that place, I'll need to stop by there on my next visit, it's super cute. If you live there, try it, it's so good!
The most funny part, I made this avocado sprout sandwich, cleaned up the kitchen, and headed straight to my Moms to have lunch before going to some doctors appointments with her, and she loved it. Like ate the whole thing loved it. So funny to me! She has taught me a few tricks to a better sandwich though, and they work great! Restaurants do this too, if you've ever wondered why restaurant and deli sandwiches are better, they add salt and pepper, and construct the ingredients in a certain way :).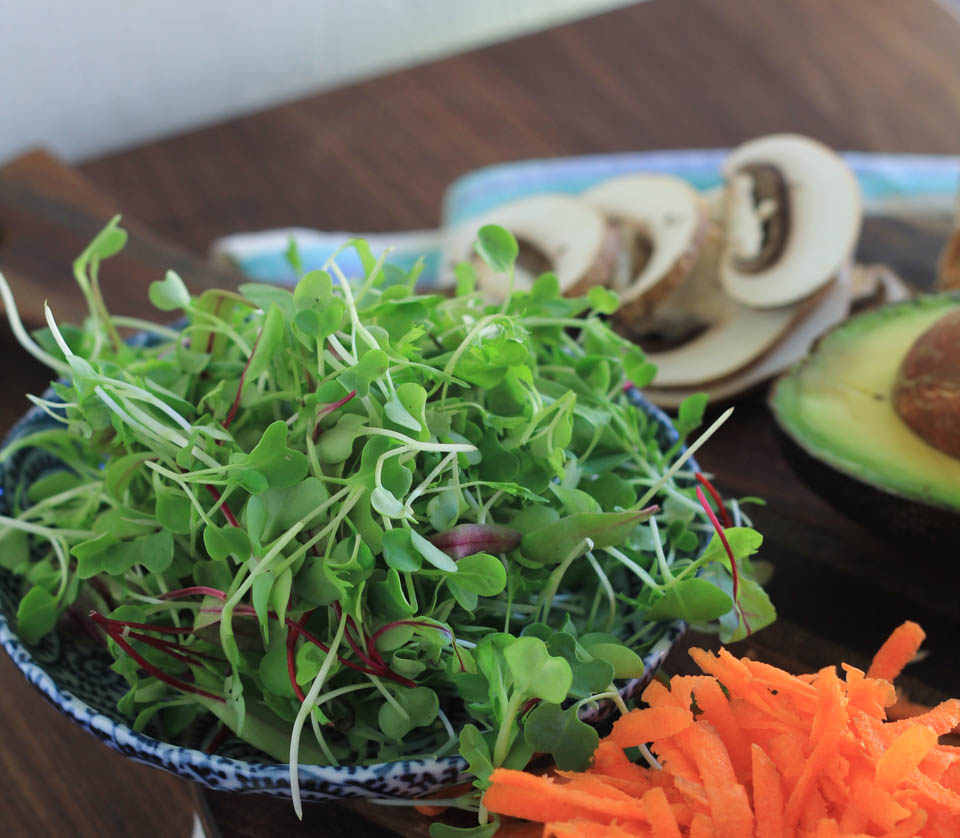 Sprouts are finicky little greens and hard to find in stores sometimes, so often times I buy micro greens instead, they are always available year round. They are crazy nutrient dense amazing greens with tons of vitamins!
Avocado Sprout Vegetable Sandwich 
makes 1 sandwich
Ingredients:
2 slices bread, I used sprouted whole wheat, but sourdough would be good too
2 teaspoons grainy mustard
1/2 large avocado, sliced
3 cherry or grape tomatoes, sliced- you could also use any sliced tomato
1/2 teaspoon olive oil
1 large cremini mushroom, sliced
1/2 cup shredded carrots
1/2 cup micro greens or sprouts
2 slices pepper jack cheese, omit for vegan
fine sea salt
fresh cracked black pepper
Method:
There is a method to this simple recipe 🙂
Divide the mustard on each side of bread, spread evenly. Divide avocado slices on each side of bread evenly. Top one side with sliced tomatoes, and sprinkle with pinch of salt and pepper, then drizzle with tiny bit of olive oil. Top tomatoes with cheese, then mushrooms, carrots, and greens. Top with other slice of bread. Slice and enjoy immediately. Not ideal for leftovers.