Apple Cinnamon Scones are the perfect treat for Fall and Winter days with a cup of tea or coffee. Make for a weekend brunch or baking fun with the whole family.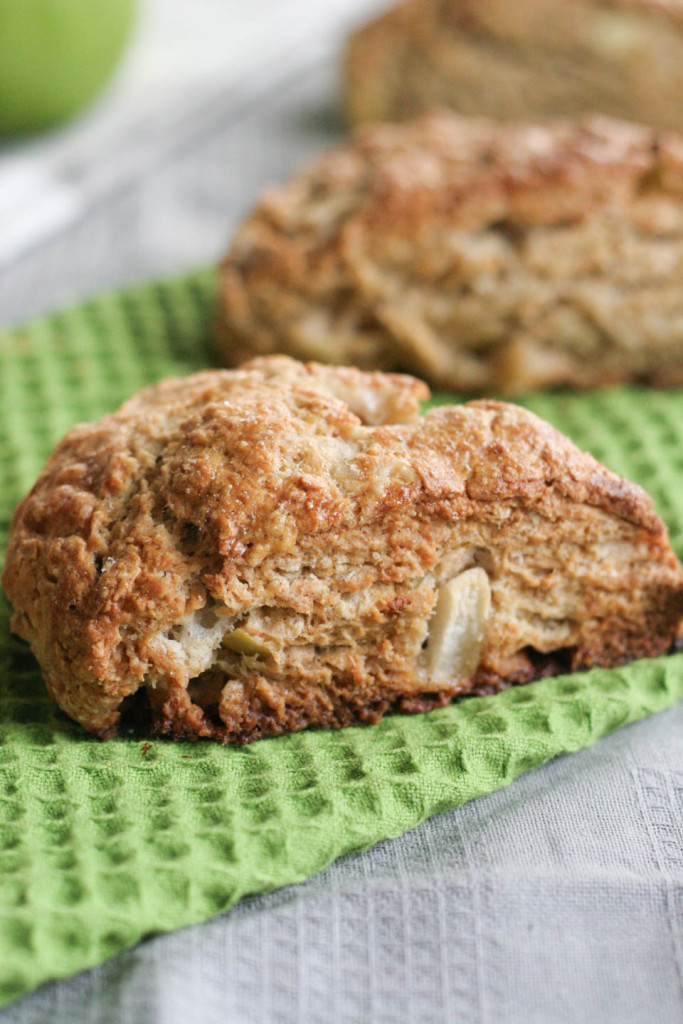 I had a massage appointment for a Monday before vacation in Sacramento years ago. I sat in the waiting room for a few minutes before looking into my email to see if I was completely wrong on the date, which in fifteen years of getting massages, has never happened! Mind you, my back was so sore, and I needed it SO bad.
My therapist is never late, he is always there waiting for me, and he wasn't so it was unusual. It was me, I was wrong, so sad, and so depressed. Major first world problems, I KNOW.  I text him and let him know I was one week off of my appointment and I would have to cancel next weeks appointment as well because I would be out of town. Even more sadness. He could sense my sorrow in the text and said he could come in later that afternoon, on his day off, to get me in. Of course, I gave him an out, I didn't want him to work on a day off, that's not ok. But he insisted.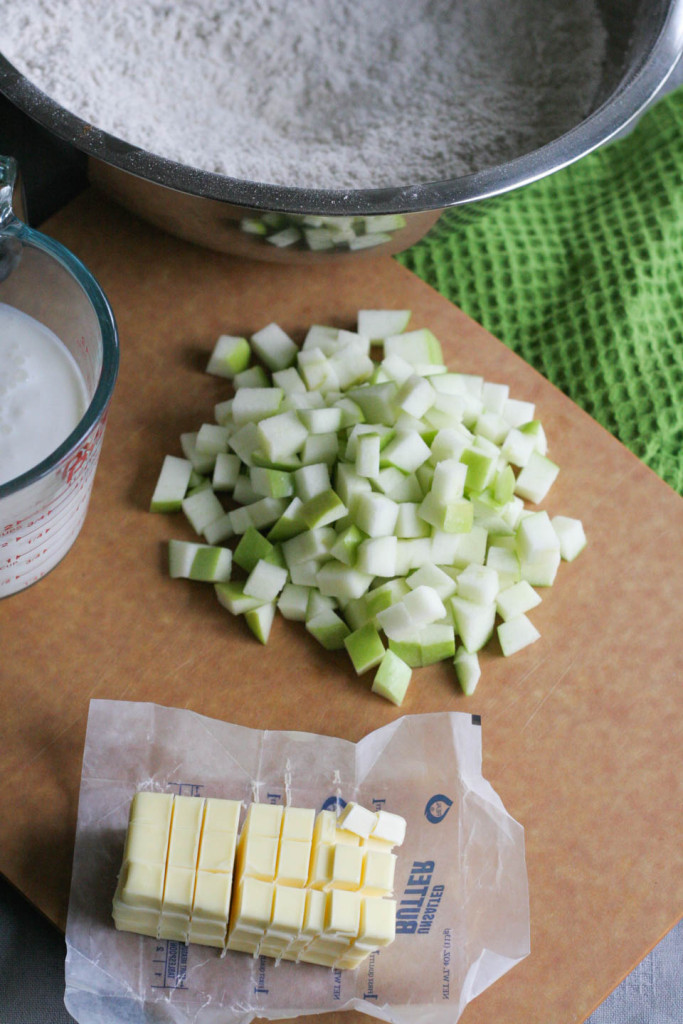 I drove home, and looked around for scone ingredients. I always have butter, flour, and milk, naturally. But I needed fruit, or nuts, some flavor. I also always have fruit, and it was January, there were apples! I'd never made apple scones, but I don't have time to go shopping so I chopped them up and mixed them into my go to scone recipe, added cinnamon, voila apple cinnamon scones! They are tender, comforting, and just like an apple pie, but better.
I went to my massage appointment, scones in hand. He was super happy, and proceeded to eat two before the massage and two after. It was a win win for both of us. Feed the people that take care of you and help you right?!!
Watch my live TV segement for the "how to" on Portlands KATU CH2 AM Northwest!
Apple Cinnamon Scones
makes 16
Ingredients:
4 3/4 flour, plus more for dusting
1/2 cup sugar, I use organic cane sugar
1 tablespoon baking powder
2 teaspoons cinnamon
1 1/4 teaspoon fine sea salt
3/4 teaspoon baking soda
8 oz  unsalted butter, ice cold ,cubed
1 large apple, chopped, use any firm apple you enjoy, leave skin on
1 1/2 cup buttermilk,  cold
1 egg plus 1 teaspoon water for egg wash, whisk to combine
Method:
Place oven rack in center of oven and preheat to 400 degrees. Line baking sheet with parchment paper.
Place flour, sugar, baking powder, cinnamon, salt, and baking soda in a large bowl, whisk to combine. Add ice cold butter cubes, rub butter into flour forming small pea sized chunks using your fingers. Add apples, mix using a spatula. Add buttermilk, using a spatula, combine gently.
Turn dough out onto a lightly floured counter. Bring dough together gently, forming a uniform disk, use a bench scraper to cut into two even pieces. Form each piece into a circle 1 1/2 inch thick. Cut each circle into 8 even triangles using a knife or bench scraper. For better results, place unbaked scones in freezer for a minimum for 30 minutes, best overnight.
Remove scones from freezer and place on a parchment lined baking sheet. Brush with egg wash and bake for 25 minutes. Remove from oven, and place on cooling rack.
Best enjoyed freshly baked. Place leftovers in airtight container, and leave at room temperature for up to three days. Warm for 30 seconds. For longer storage, place in ziplock bag in freezer for up to 1 month.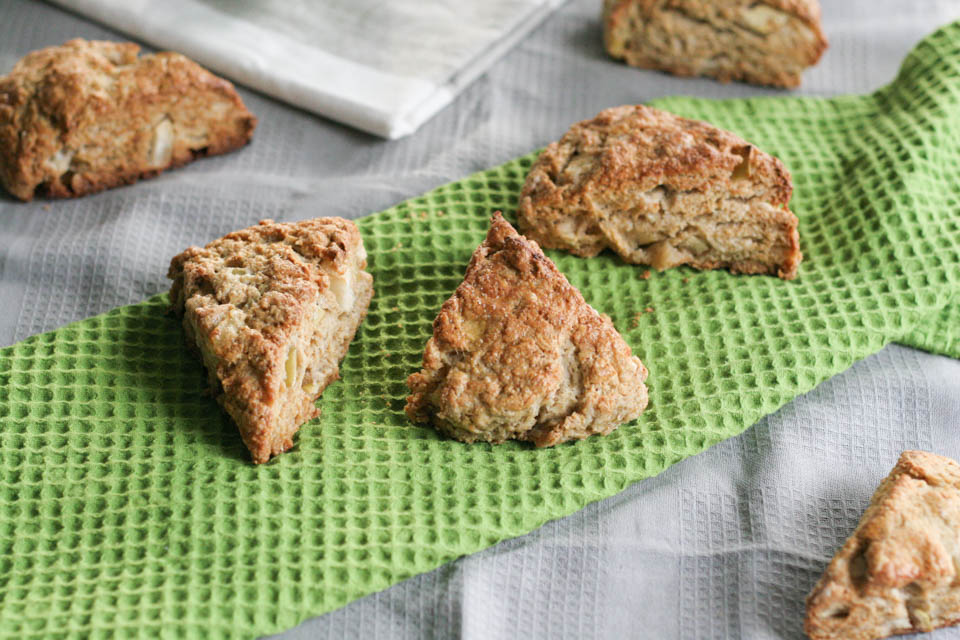 Apple recipes on Not Just Baked
Apple recipes from around the internet
Enjoy!