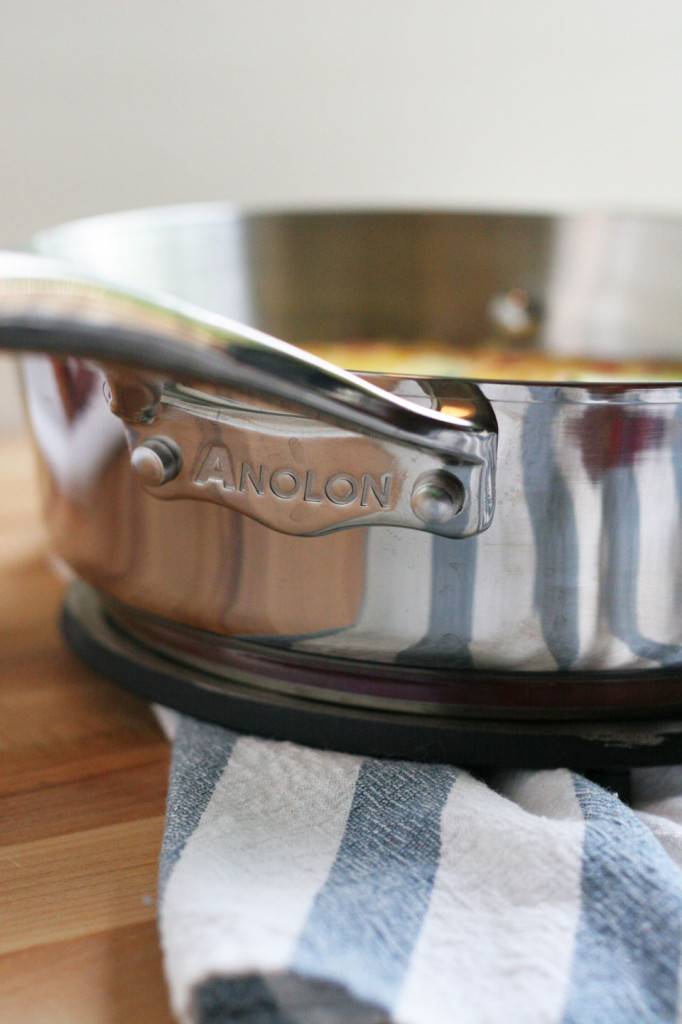 Disclosure: This post is sponsored by Anolon Cookware. I was given the Anolon Cookware set for review, and the winner of the giveaway will win my two favorite pots and pans from the set. As usual all opinions are my own. Good luck!
It's pretty simple, I met Anolon at BlogHer Food in Miami, and had a great conversation with the rep that was attending the event to talk with bloggers such as myself. I have mentioned several times before, running this blog as a business takes good companies, like Anolon, to keep us going and bring cool features like the giveaway for today!
I chose to work with the 5 ply 18/20 Anolon Nouvelle Copper Stainless Steel set of pots and pans. I needed a beautiful set like this and it was time to replace some old pots and pans I have been working with for years! Here are my thoughts…
First I start with price, this set of Anolon pots and pans value is $299.99. As you can see from the image below you get a ten piece which includes,  1.25 quart covered saucepan, 2.5 quart covered saucepan, 3 quart covered saute, 6.5 quart covered stockpot, 8″ French skillet, and 10″ French skillet.  Each has a polished stainless steel finish using the Anolon Nouvelle Copper Stainless Steel, and the bottoms are lined with a layer of copper. Copper is a very useful tool for any cooking, as it an excellent heat conductor.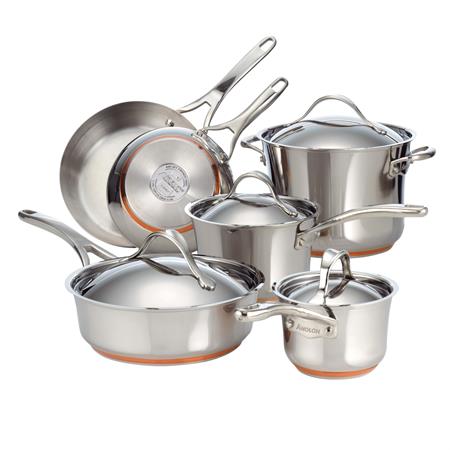 I have been testing this set for over two months, as I wanted to make all of my meals using this set to bring you an accurate view of what they can do for us in the kitchen. I must say, and I will be very clear here; for the price, these pots and pans make me very happy. Where can you get a set at this quality for this price. You get ten pots, pans, and lids that will last a very long time. I made a variety of dishes, and to be perfectly honest, I was skeptical at first. I didn't know if they would measure up to some of the other high end brands.
I started by making some jam to can, and ended up making three jam recipes over two weeks in the 10 inch French pan for optimum reducing capabilities. It worked out so well. I like to make jam on that pan because it allows the liquid to evaporate because of the width of the pan. I moved onto the 3 quart saute pan for smaller jam batches and same results. They are shaped in a way that allow even heat distribution, also the copper does its job.
I have to say also here, our stove kinds sucks, no offense stove, but it's true. We are in a rental, and lets face it, electric stoves are not the best. As a chef, I cannot use our stove as an excuse, but I can say it makes cooking evenly very trying at best. But having good pots and pans can help with that issue. It by no means solves it, gas ranges solve that, but it has that copper lining which is a huge help.
After getting over the initial skepticism, which is good for reviewing products anyhow, I realized it was making cooking easier for me. Not only was my food coming out better, cleaning and washing these by hand was a breeze. I made some fish one night. Simple salmon super high heat to crisp the skin on one side, then turn to finish cooking. A lot of times if the pan is not hot enough, the fish sticks and becomes a mess to clean and cook. That can be due to the actual heat not being high enough, or a pan not conducting the heat properly. That fish was just right, and it came off the pan easy breezy. With added stove difficulties, it's nice to have a pan that makes my life easier. I made this Salsa Frittata in the 3 quart lidded pan you can win. Again with the cleaning. The even surface of the stainless steel makes scrubbing not much scrubbing. Rather a gentle coaxing of stuck ingredients. Water and wiping is what it felt like.
Here is the thing, it goes back to value. The value is good. Price for what you get is just great. Because the only beef I had with these, was the lids are not as tight as I would like them to be. When I made rice in the medium pot, the rice water did boil out a bit and that was annoying. But I am getting a seriously good quality pot and pan with lid package for $300.00, and you can't beat that.
I made so many things over the last couple of months using the large stock pot. I focused on the giveaway items to give you the best knowledge about what you can win. Boiling water for pasta, super easy obviously. But I also made this Ratatouille which was a dream to die for easy dish. The vegetables cooked evenly, with just the right amount of reduction needed to make a sauce in the pot while the vegetables cooked. Another note on this pot, the height makes it very versatile to use. Using a hand blender to make this tomato soup avoided the inevitable splash all over the kitchen situation. I made the soup and ate it. Of course there were some splash ups, but easier than making it in my Dutch oven.
Overall this set works for my needs in the kitchen. As you know I cook a lot, everyday. I am not catering parties by any means, but I am using my pots and pans daily. I have gotten plenty out of this set already, and can see that they will last in good condition for a very long time.
I hope this is helpful and let me know if you have any questions about these pots and pans!
GIVEAWAY DETAIL~ This giveaway is over, and the winner was chosen. Thank you all for entering! I appreciate your support.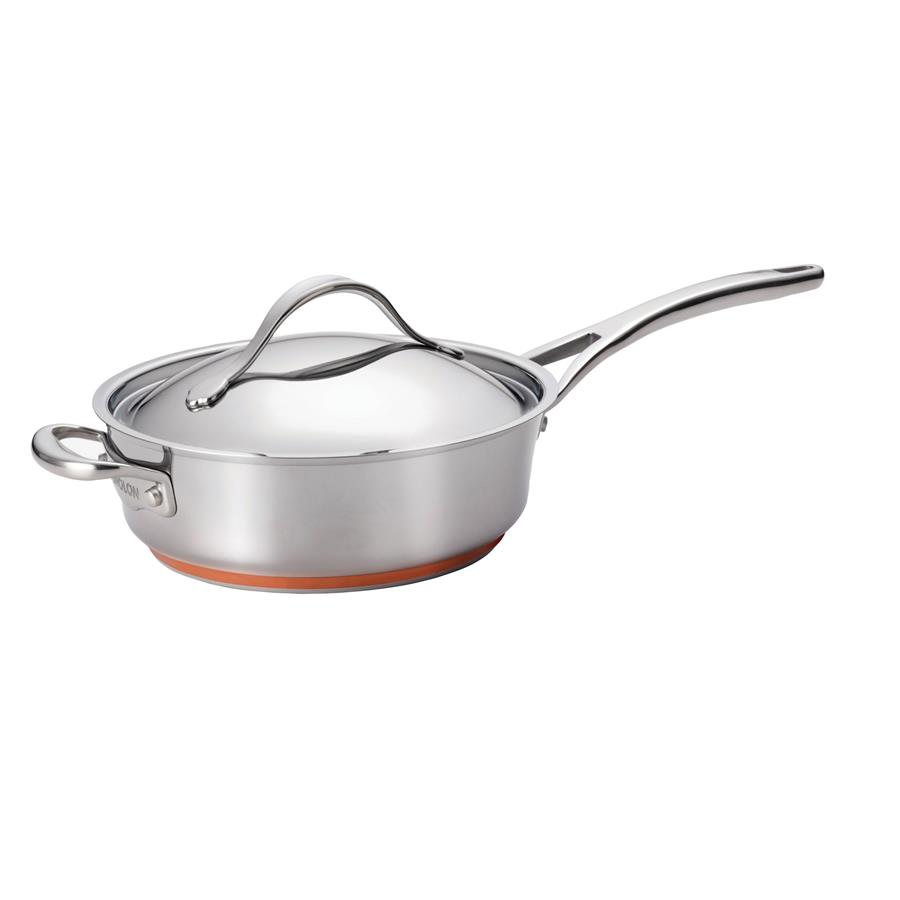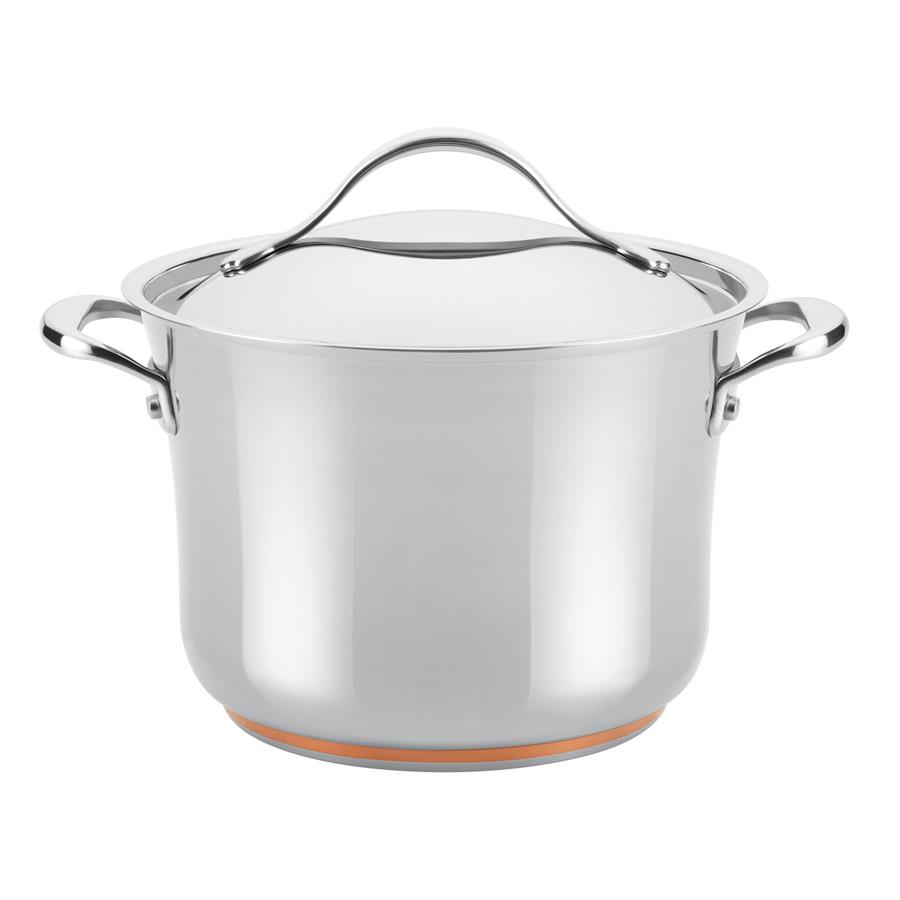 a Rafflecopter giveaway

Visit Anolon's social media for more information on their product and keep up to date with any other promotions they are having.
Anolon Pots and Pans and a Giveaway!