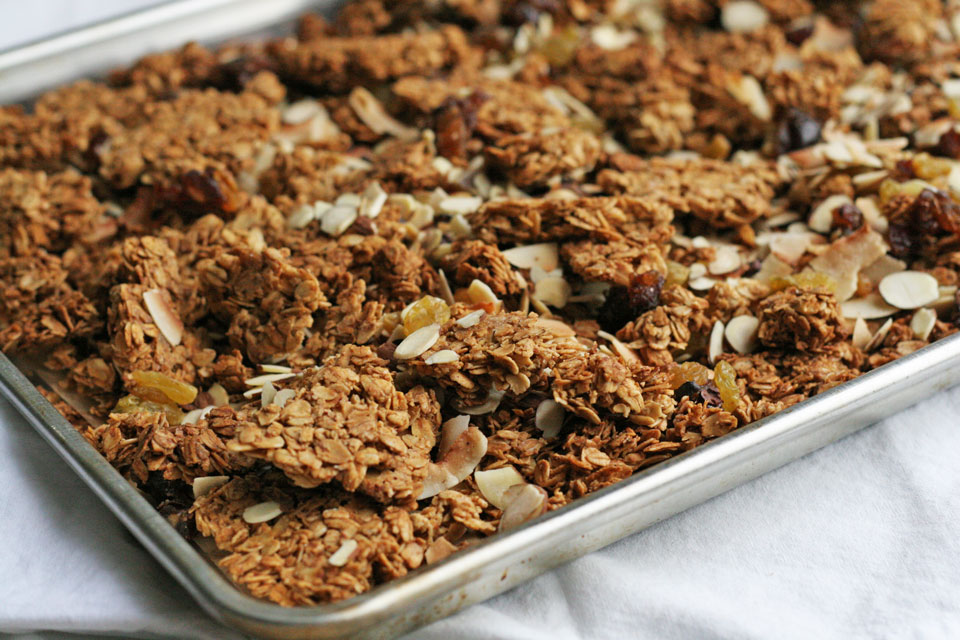 There are so many wonderful granola recipes all over the internet, cookbooks, and magazines these days.  I found one a few years ago that I have adapted time and time again, it's that good.  I feel like it has become my own, in that I have memorized it, I make it a lot, I add and subtract ingredients, or make it with what I have on hand.
In the last few months, really since the holidays, I have not made granola *gasp*.  It's ok, everyone suffered this calamity, especially Brian's co-workers.  There are a couple of things that make their way to his office from time to time, granola is one of those things.  So when Brian told me one of his co-workers would no longer work at his office, I knew what I had to do.  So I got to making a huge batch of this granola to send him off to his new job full of happy granola.  And I wrote, " Happy Trails" on the bag, I crack myself up.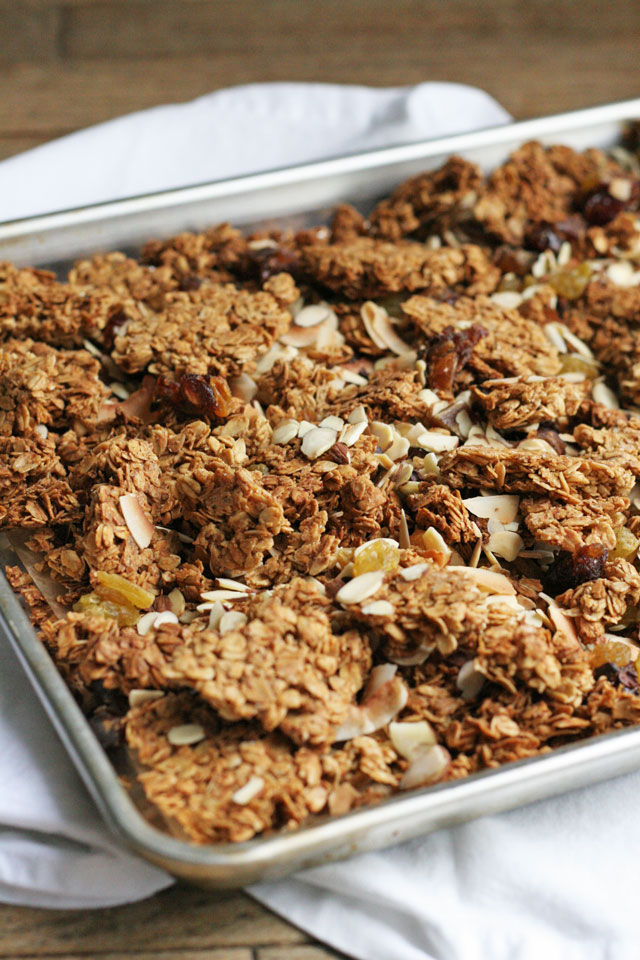 Almond, Date, Cacao Nib Granola
Makes: 12 cups
Ingredients:
4 1/2 cups rolled oats
1 teaspoon cardamom
1 teaspoon cinnamon
1 teaspoon fine sea salt
1/2 cup honey, I use Bee Local, omit for vegan
1/4 cup olive oil
1/2 teaspoon vanilla extract
2 cups sliced almonds, toasted
1/2 cup Medjool dates, pitted and chopped
1/2 cup golden raisins
1/2 cup unsweetened coconut flakes. toasted
2 tablespoons cacao nibs
Place the oven rack in the middle, then  PREHEAT OVEN TO 350 DEGREES.
Toasted Almonds:  Place almonds on a baking sheet, place in oven at 350 degrees for about 10 minutes or golden brown.  Remove and allow to cool.
Toasted Coconut:  Place coconut flakes on baking sheet, place in oven at 350 degrees for about 10 minutes or golden brown.  Remove and allow to cool.
Method:
1.  In a large bowl add the oats, cardamom, cinnamon, and salt.  Stir to combine well.  In a medium bowl add the honey, olive oil, and vanilla.  Stir to combine.  Add the liquid to the oats mixture.  Using a spatula or your hands, mix well.
2.  Place the oat mixture on a parchment lined baking sheet.  Spread evenly, and press down lightly to compact the mixture.  This creates larger chunks after baking.  Place in oven and bake for 30-40 minutes, until golden brown.
3.  While the granola is baking add the toasted almonds, dates, raisins, toasted coconut, and cacao nibs to a large bowl, mix to combine.
4.  Remove baked granola from the oven, allow to cool for 20 minutes.  Once cooled, place the granola in a large bowl and add the nut fruit mixture.  Break apart the granola into medium chunks, easy for snacking.
Serve with yogurt and fresh fruit, or milk for a hearty, healthy breakfast.  Or pack up in a small bag and take with you on your next hike for a filling snack!
Store in an airtight container for up to a week, if longer place container in fridge for up to one month.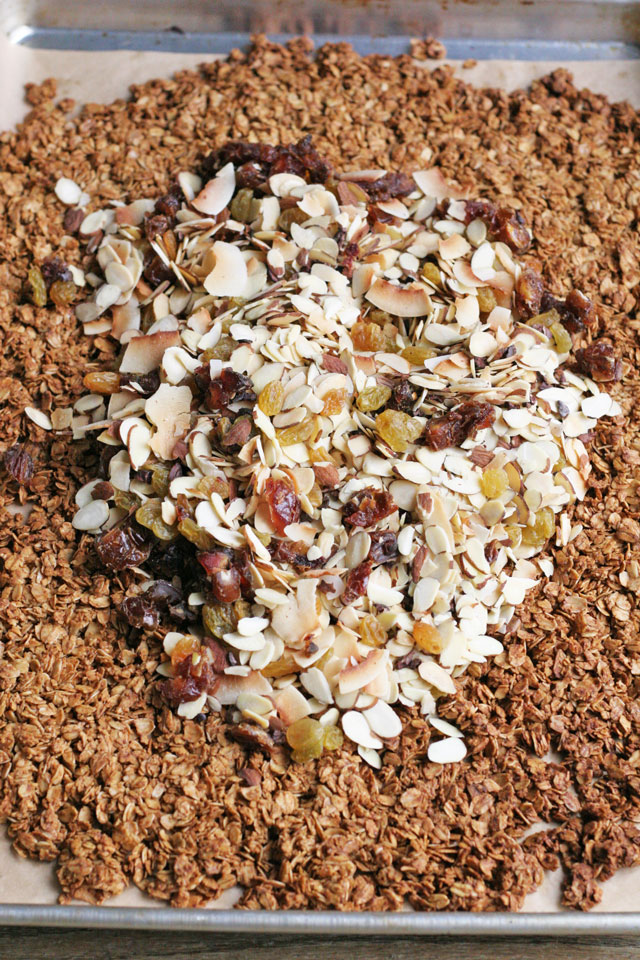 ENJOY!