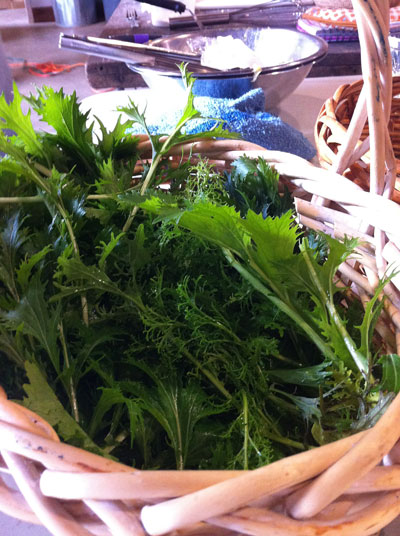 I was asked by Chef Schrieber at school if I wanted to visit the farm I worked on for another event.  I of course said yes.  It was for Farm Day on Sauvie Island, north of Portland.  The Sauvie Island Center is a non profit center that brings kids out to the farm to learn where their foods comes from.  They get to spend the entire school day learning about fruits, veggies, how, where, and what goes into the food that they eat.  They get their hands and pants dirty picking veggies to eat for lunch.
On this particular day I was there to teach them how to make corn tortillas, where the masa comes from and how to enjoy them freshly made.  Chef Screiber and I brought tortilla presses, handmade masa, salsas, cabbage, tomatoes, and hands on experience to share with the kids.  This is me, that is heaven.  I get so much satisfaction from sharing my knowledge with kids, and to see their faces light up with interest makes me happy.  It is a unique experience.  These were seventh graders, so they were able to be hands on, and totally understand what we were there to teach.  I demonstrated only one time how to make a golf ball size masa ball, put it in the press, and make the tortilla.  There were about twenty five students, and they ALL listened intently and did it on the first try.  I have to be honest, I was so impressed that they paid that close attention.  We successfully prepped the tortillas, and then cooked them up on the cast iron.  They went on to make tasty quesadillas with all of the goodies we brought, and the fresh greens they picked on the farm.  Anna, the executive director, and an all around awesome person for doing all of this hard work for such an amazing cause, took this photo of me with the kids pressing out the masa.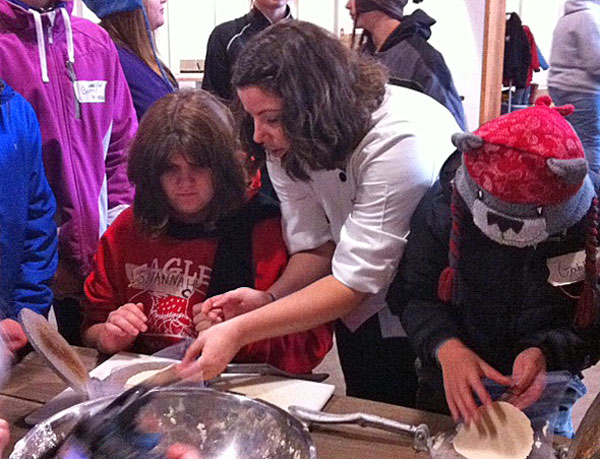 There was even a girl who had packed a Top Ramen in her lunch that day.  She took here Ramen, threw it on the ground, stomped it and said she would never eat it again.  Those are the moments that we do this for.  I was volunteering that day.  I got a super cool t-shirt, and a huge bag of greens as a thank you.  I would have been happy with just knowing that maybe one out of all those kids were impacted by that day on the farm.  It doesn't take much for me to be grateful, it is the small things in life.  And we can change something so significant in a kid's life, like what we eat, and where it comes from, I am all for it.
On a side note, those were the best greens I have ever tasted in my life, hands down, no joke.  It promoted me to reinvent my garden for next year, and be more proactive in getting fresher greens from my farmers markets and soon enough my backyard.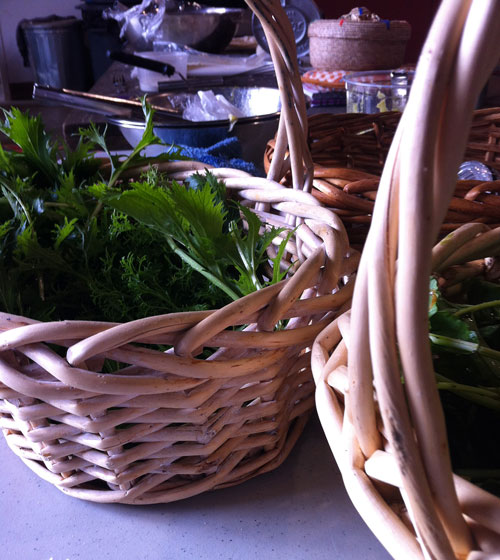 Portland's KOIN local 6 News Chanel came out that day to check out what we were up to.  They interviewed Chef Schreiber, he is a founder of this amazing place, he mentioned the Ramen incident and what these field trips do to influence the kids.  I was in the background cleaning, on TV!  It brought attention to the media, local politicians were there as well, and hopefully it brings more interest, plus funding to this amazing cause.  I look forward in being proactive in this aspect of kid's lives.  I think it is vital and so important that they get the funding to keep programs like this growing.