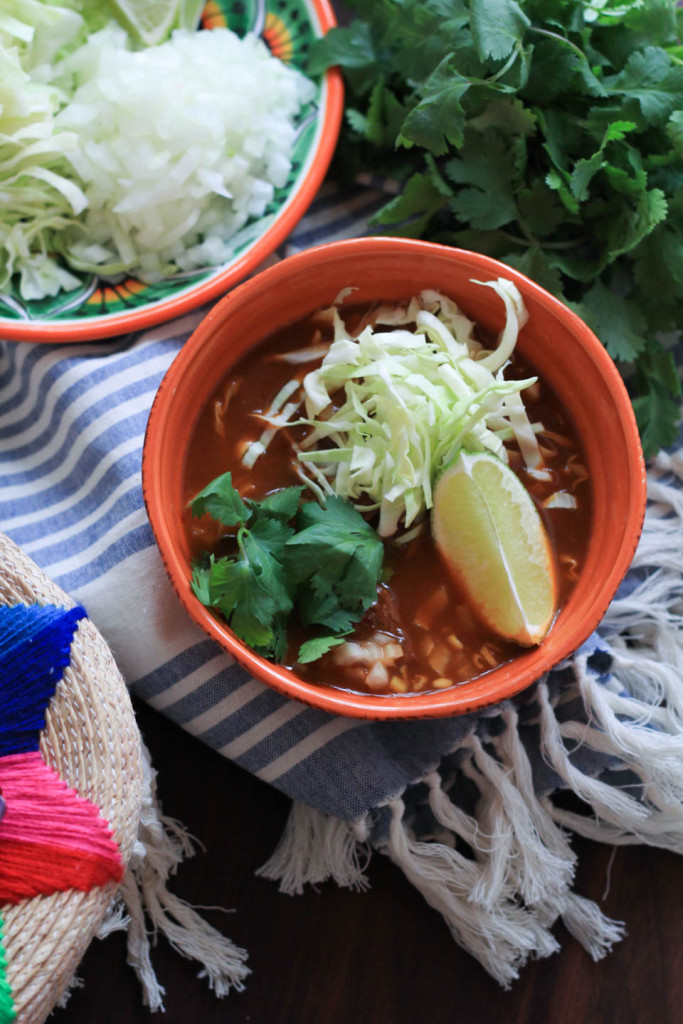 Pozole Rojo, Posole Rojo, Red Posole! Whatever you want to call or however you want to spell it, it's so so good. I am from Mexico, so it's pozole. I am particularly a fan of the red version, they come in green too, and I don't discriminate any pozole, but red oh red. I am a huge fan of the red. It has a blend of chiles that I use in my recipe, and you can really taste them, especially the day after  you make it. I think the longer it sits, the better it gets. The flavors take time to meld, get all cozy with each other, a lot of things are better the next day. This happens to be one of them.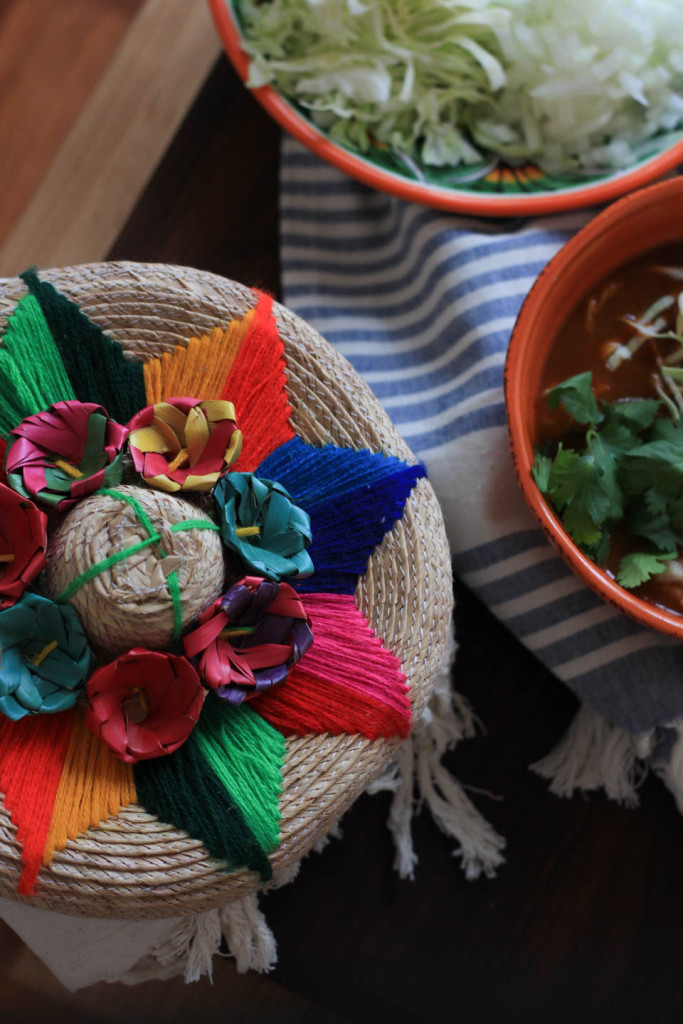 It's been a while since I've been back to Mexico where I was born. I've gone to my homeland, just not my hometown. The inspiration for this came from Torreon, where I was born and spent many holidays. It's epic, like so many Mexican celebrations. We gather for Christmas Eve, which is just as important as Christmas Day, and we eat. Celebrate, dress up, go around to several family members houses, and eat more. By the end of the night we end up an my cousins grandmothers house where we have pozole. Or we go over the next day for pozole after we open gifts. This is how we roll, all night, epic eating, fun, family times. Since it's been so long that I have been there for Christmas I thought it was about time I made pozole for this holiday season. Honestly, it's been so long I don't remember all of the specifics, but the pozole always stands out in this food memory.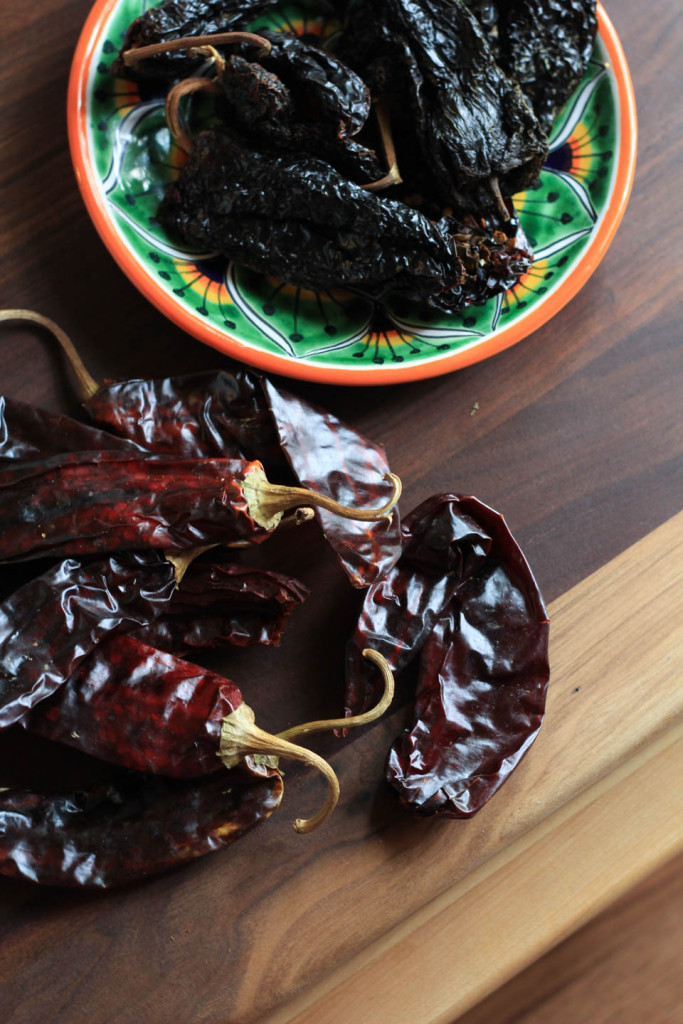 The broth is what I remember so vividly. It's cozy, deeply flavorful, comfort Mexican food. Serve with warm tortillas, and the accoutrements of all pozoles, and I am in a seriously happy angelic state of mind. Yes, I hear angels singing, ahhhhhhh lalalalal, when I eat this. It's that childhood memory food thing happening. And I am always all about that memory, there is nothing like, science even agrees. We all experience this from time to time. Sometimes in the unexpected faint smell in the air as we pass by something cooking. Charred poblano peppers does it to me as well. And this broth, cooking away on the stove, not necessarily the smell, but the tradition. And then, the first bite. It hits me, just like I am in Mexico with family, the sounds and familiar smells of the air. Next thing I know I want another bowl. And it's ok, because there are epic amounts of leftovers, I will be enjoying this memory all week long…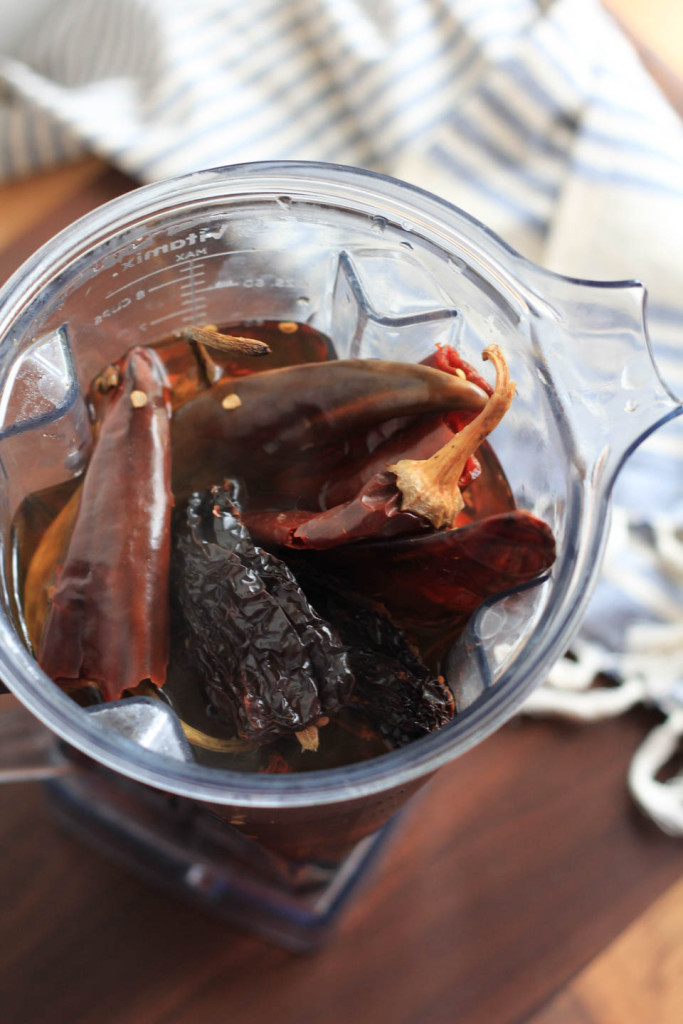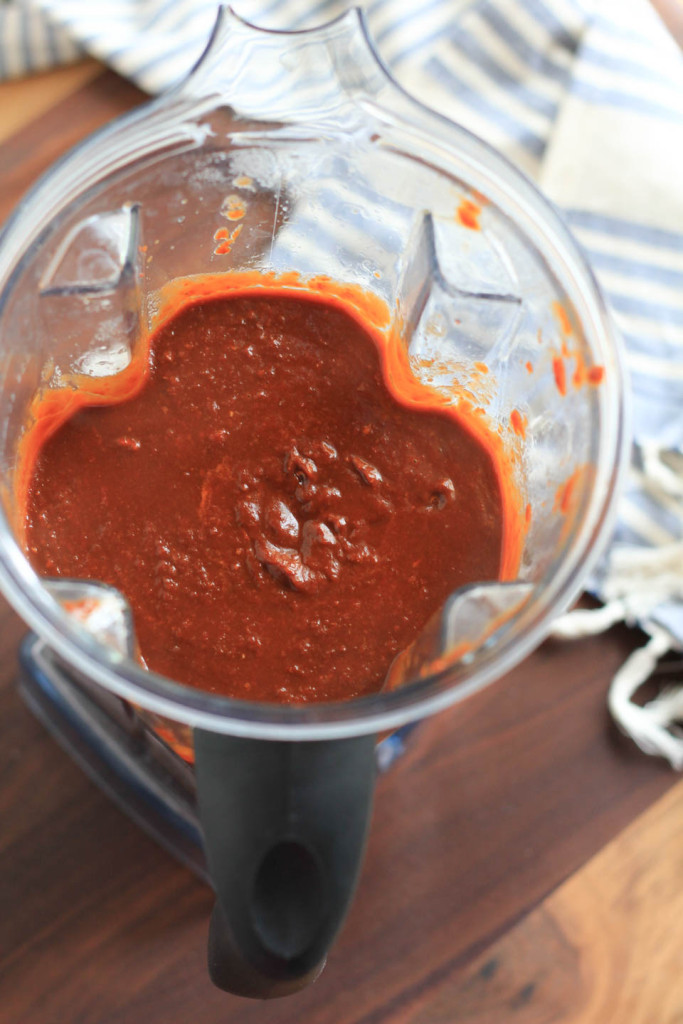 Pozole Rojo, Posole Rojo, Red Posole 
serves 10-14
Ingredients:
3 oz dry Ancho chiles
3 oz dry Guajillo chiles
1 quart/4 cups water for soaking chiles
4-5 quarts water for soup
4 lbs pork shoulder, trimmed, 2 inch cubes, pat dry with paper towel before searing
3 tablespoons olive oil
5 cloves garlic, peeled
1/2 white onion
2 tablespoons Mexican Oregano
2 large dried bay leaves
fine sea salt
1 large 108 oz can hominy, rinsed
to serve:
1 small green cabbage, thinly sliced
1 large white onion, finely chopped
1 bunch fresh cilantro
4 large limes, quartered
1 large avocado, sliced
flour or corn tortillas, warmed
Method:
Place dried chiles in a large 10-12 inch skillet (do not use non-stick) over medium heat, no oil. Toast chiles for 3 minutes, tossing around to toast. Pour 1 quart water over chiles. Turn heat to high, bring to a boil. Remove from heat, pour into blender. Allow to soak submerged in water for 20 minutes. Dry the pan with a clean kitchen or paper towel.
While chiles are soaking, bring 4-5 quarts water to a boil in a large 10 quart stock pot covered over high heat.
Add olive oil to pan you used to toast chiles, place over medium high heat. Once oil is shimmering, Sear pork over medium high heat, about 1 minute on each side. Adding olive oil as necessary. Work in batches to sear, it will be about 3 batches. Add seared pork to boiling water after each batch using tongs. After searing all pork, use a spatula to scrape pork bits off pan straight into water.
Blend chiles on high with garlic cloves and 1/2 onion until smooth. Strain into a large bowl through fine mesh sieve, pushing through using a spatula or large spoon. Discard paste, add sauce to water.
Add oregano, crushing in fingers while adding, bay leaves, and 2 tablespoons salt to water. Reduce heat to low. Add hominy, stir to combine, cook covered for 1 1/2. Uncover and cook another 1 hour, reducing the liquid. Taste for seasoning, you'll likely need another tablespoon salt. But make sure to taste before adding.
Serve warm with cabbage, chopped onions, cilantro leaves, lime wedges, avocado slices, and tortillas. Store leftovers in an airtight container for up to 5 days. It tastes better and better each day.