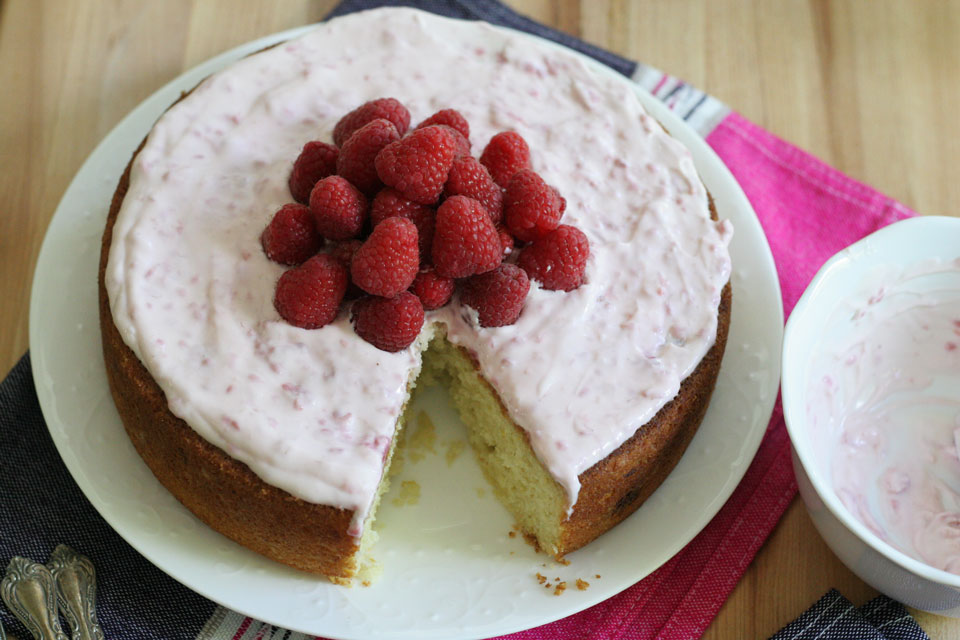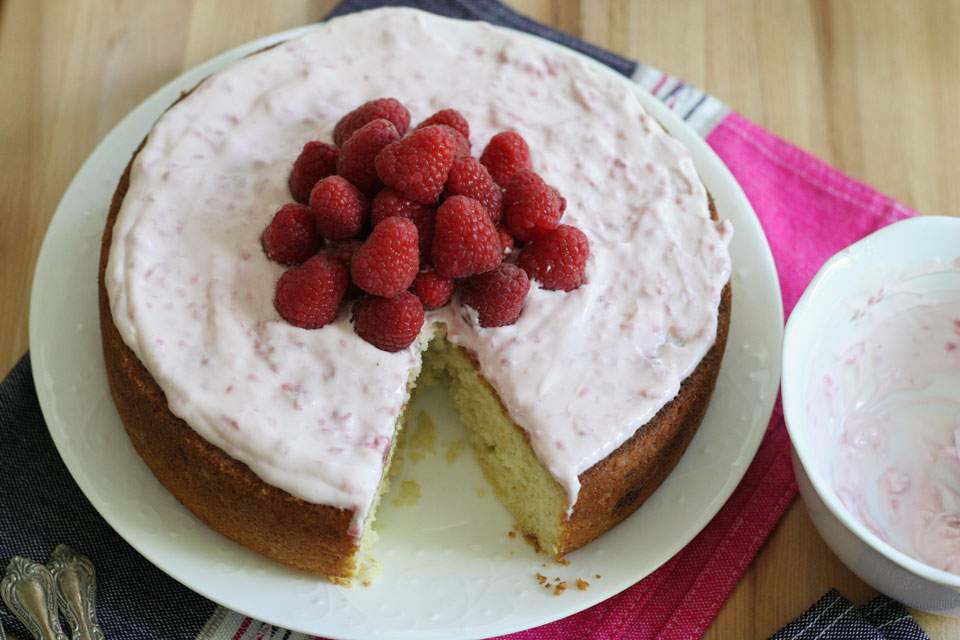 I'm taking this time to do a re-post of a great cake recipe that is easily one of my favorite lemon raspberry combos! I'm also getting ready for my Mama to get back into town this weekend from her two month long trip to Mexico and California. There is much to do and celebrate with this beautiful lemon cake with creamy in season Raspberry Creme Fraiche Frosting, just sweet enough to enjoy with a cup of coffee.
original :)—
I am a lover of all seasons, but I could possibly say Spring and Fall are my favorite. One is awakening  the new, and one is slowing down the soul. Now that it is Springing into Summer, I remember with each passing year why I love it too. Over the weekend we spent our time building a fire pit, propping up raspberry bushes, planting tomato plants, and enjoying the Pacific Northwest 80 degree weekend.  Not too shabby. We rewarded our fire pit efforts by building a fire, eating the best hot dogs ever, and of course, smores. It was glorious. Here is the AM Northwest TV segment I did sharing this recipe!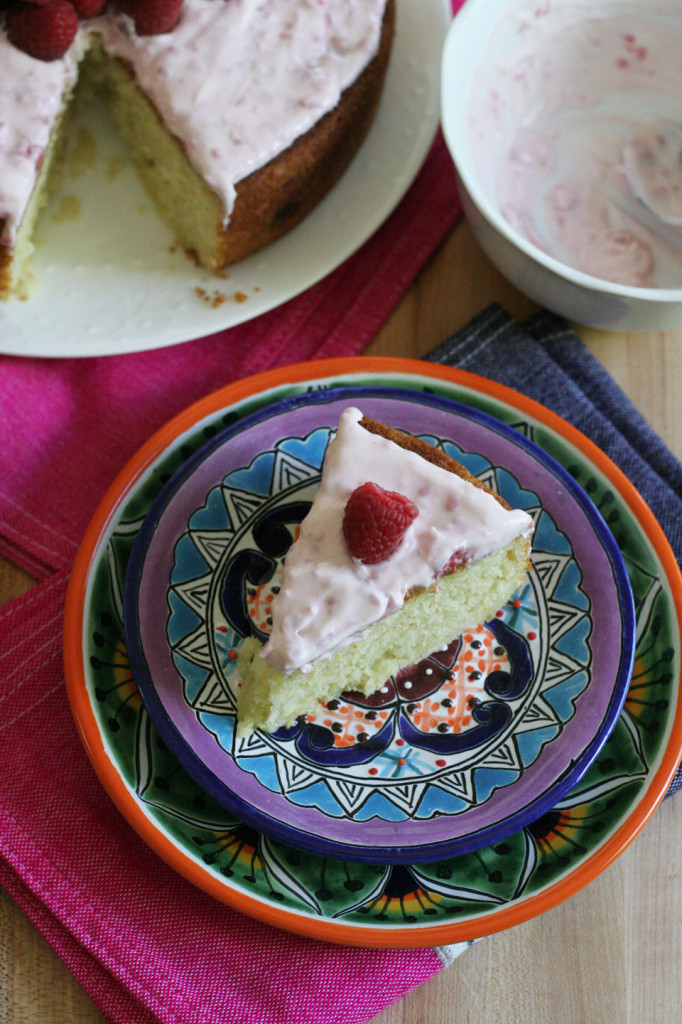 Over the last couple of weeks we have been prepping the area around the yard for this weekend of work. While looking around, and planning the attack, the raspberries caught my eye. Naturally, I have been picking off any that were ripe enough to eat. Even if I can just have one, it is so worth the tiny taste of a fresh pick. And in the moments of picking a couple of raspberries, this cake was born. I am not totally sure how it all came together exactly, but it went something like this…
"Oooo raspberry cake. Lemon frosting. Hmmm, raspberry cake. Creme Fraiche frosting, yum. Oh lemon cake with raspberry creme fraiche frosting. So easy, so good."
Thus the lemon cake with raspberry creme fraiche frosting was born, in my backyard, while picking raspberries, naturally.
Check out the video segment where I talk cake making and egg cracking skills with Helen from AM Northwest. It is so fun doing these shows!
Note: I made the creme fraiche for this recipe. It is super easy. But you can find creme fraiche in any store. It is much like sour cream, and tastes so good with the sweetness of the cake.
You can make the cake and creme fraiche frosting ahead of time, up to one day. Keep cake and frosting in air tight containers in fridge separate until serving. bring cake to room temperature before serving.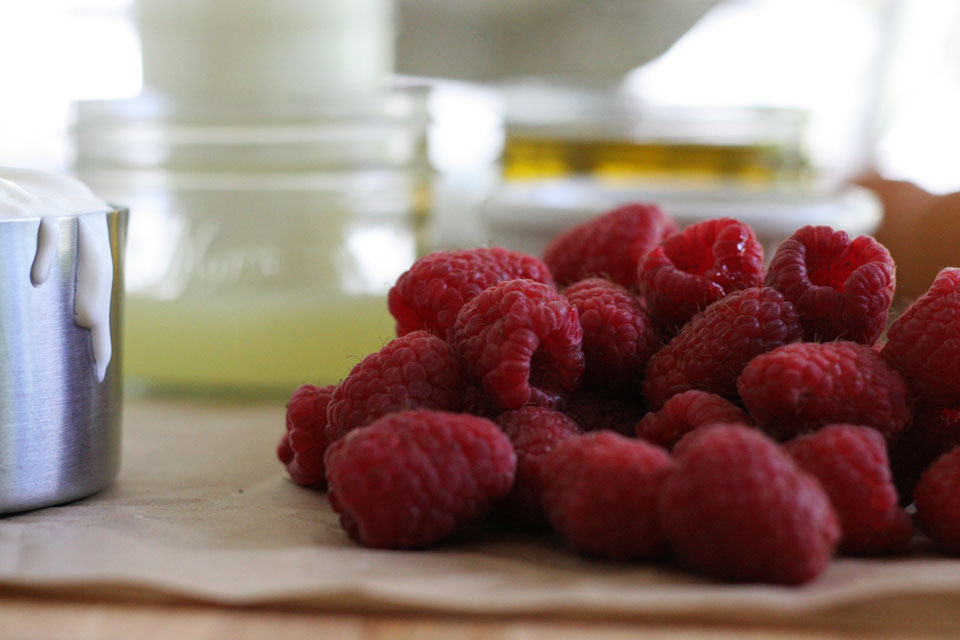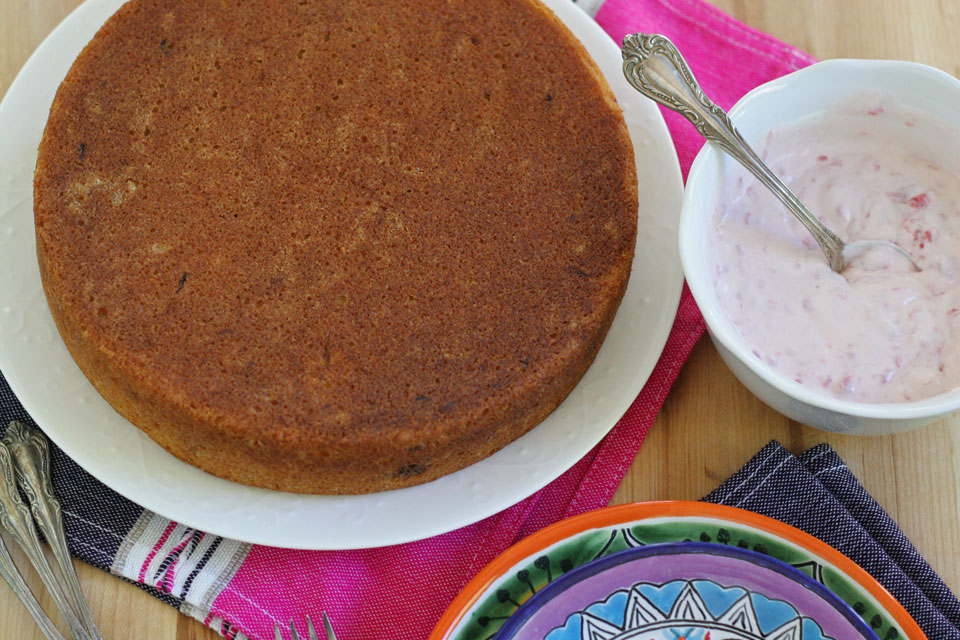 Lemon Cake with Raspberry Creme Fraiche Frosting
Makes 1- 9 inch cake, 1 cup raspberry creme fraiche frosting
While we move away from berry season, you can always substitute the raspberries for your favorite in season fruits!
Ingredients:
1 cup milk
1/2 cup freshly squeezed lemon juice, about 1 1/2 lemon, zest the lemons and set aside for the cake
2 1/4 cup all purpose flour
1 cup sugar, I use organic cane sugar
3/4 teaspoon baking powder
3/4 teaspoon baking soda
1/4 teaspoon fine sea salt
2 large eggs
1 cup oil, I used grapeseed oil, a  mild fruity olive oil would be good too
Frosting:
2 cups raspberries, about 9oz., set aside 1/2 cup for top of cake
1 tablespoons sugar, I use organic cane sugar
1 teaspoon honey, I use BeeLocal
1/8 teaspoon fine sea salt
1 cup creme fraiche
Preheat oven to 350 degrees, place rack in center of oven
Method:
I uses a 9 inch cake pan. Pour 1 teaspoon of the oil you are using into pan, use a paper towel to coat entire pan evenly.
1. Combine the milk, and lemon juice in a medium bowl, whisk to combine, set aside for 10 minutes to make buttermilk. In a large bowl combine the flour, sugar, baking powder, baking soda, salt, and lemon zest. Whisk to combine.
2. Add the eggs and oil to the buttermilk, whisk to combine very well. Add buttermilk mixture to the flour. Using a spatula, mix gently to combine. Just wet the flour with the liquids, DO NOT OVER MIX. Pour batter into oiled cake pan. Bake for 45 minutes.
3. Work on raspberry creme fraiche while cake is baking. In a small sauce pan, add 1 1/2 cup raspberries, sugar, honey, and salt. Cook over low heat for 5 minutes, stir frequently. Remove from heat, and allow to cool. Once the raspberries cool, add to the creme fraiche, using a spatula, fold to combine.
4. Remove cake from oven, and cool on a wire rack for minimum 30 minutes. Once cooled, spread the raspberry creme fraiche frosting evenly on top of the cake. Top with fresh raspberries. Serve immediately. Store in an airtight container for up to 3-4 days if necessary.
ENJOY!